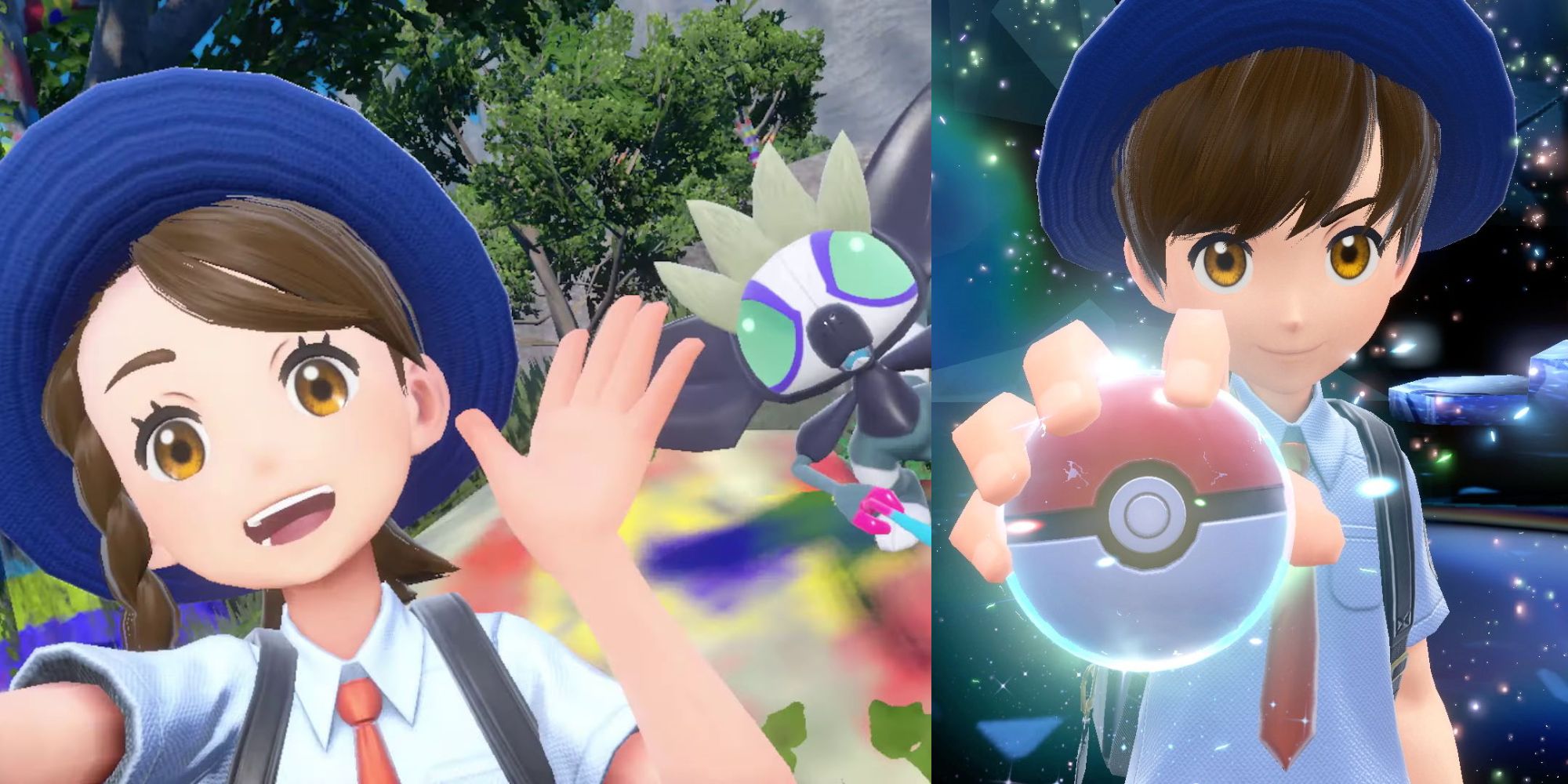 It's been nearly an entire year since the release of Pokémon Legends: Arceus, a game that restored many fans' faith in the franchise after the overall disappointment surrounding the last mainline game, Pokémon Sword and Shield. At last, the long awaited sequel Pokémon Scarlet and Violet has been unleashed to the world and is taking the internet by storm. Despite the recent shaky footing of the platform, fans took to Twitter to share their excitement and reactions to this highly anticipated release.
Leading up to the release Pokémon fans on Twitter have been debating which starterPokémon to choose, weighing the pros and cons of snagging Fuecoco, capricious Sprigatito, or suave Quaxly. By now their choices have long been made as they race to discover each starter's evolution and discover the ins and outs of the new game. In 140 characters or fewer, fans on Twitter are reacting to the new generation of Pokémon, sharing their genuine and often humorous thoughts on the glittering and expansive region of Paldea.
6 Hours In
Professional Pokémon player Wolfey took to Twitter to share an update after 6 hours of playing Scarlet. "I have one gym badge," he wrote, "this game is incredible." Wolfey isn't the only player praising the game, a relief for many fans who were concerned the game would feel empty and boring like its predecessor Sword and Shield.
Related: 10 Most Nostalgic Episodes Of The Pokémon Anime Series
Thanks to the open-world approach of Pokémon Scarlet and Violet players can easily spend hours in the first few areas alone, a good sign that developer Game Freak fleshed out the details of Paldea. Exploring the region and filling up the dex feels natural and rewarding much like in Pokémon Legends Arceus. Players like Wolfey are optimistic this game will stand the test of time, offering hundreds of hours of fresh gameplay to enjoy.
Co-Op At Last
Dreams are coming true for Pokémon fans like Kira who is enjoying Pokémon Scarlet and Violet in real-time alongside their sisters thanks to the long-awaited co-op the game has to offer. The cute poses and selfie camera mode make the game feel modern and connected, features fans have desired for generations.
Pokémon thrives on its community of players, but prior to this introduction of co-op, the ways trainers could play together were limited. Finally, Scarlet and Violet offer a solution with Union Circle, a simple way to connect via local or online play that's revolutionizing the mainline games. Pokémon is sure to become one of the easiest multiplier games for beginners thanks to this incredible update.
The Glitches
As with any day-old game, Pokémon Scarlet and Violet players like Aria are already experiencing some serious glitches. A simple quest to take a selfie sent them free-falling through a broken reflection of Paldea. The over 15 thousand likes this tweet received is a sure sign Aria isn't the only one dealing with game-breaking glitches.
It's expected to encounter snags within the first few days of a game's release, but many fans are disappointed that such dramatic glitches have not been caught long before release day. Pokémon is an AAA title that fans expect quality from, understandably. Twitter users in the comments liken this extreme glitch to the days of Super Mario 64, where players could glitch into usually inaccessible parts of the game, though thankfully no glitches to that degree have been discovered for Scarlet and Violet, yet.
Klawf Time
Twitter account Bulbagarden is the face of the most useful and admired Pokémon fan community in existence, so it's no wonder they've managed to compile a full party of Klawfs on the game's release day. This hilarious tweet goes to show how passionate players are becoming for gen 9 already.
"Klawful Good" is just one of Bulbagarden's new companions, a fun name for this crustaceous titan Pokémon of gen 9. While there will always be some disappointing Pokémon evolutions and new additions because of their subjective nature, it's great to see players having fun with dream meme teams like a party full of Klawfs. Generation 9 is shaping up to be one of the best in recent Pokémon history, a legacy community leaders like Bulbagarden is supportive of.
Gone Home
Well-known gaming content creator and streamer Jacob Alpharad caught a hilarious glitch live on stream while enjoying the game on release day. "I want to go home," a relatable NPC bemoaned before promptly disappearing into the void.
Related: The 10 Best Budget-Friendly Gaming Headsets
"I see why he wants to go home," joked Alpharad moments before the NPC dissolved. His hilarious reaction was clipped and uploaded to Twitter where it quickly amassed over 78 thousand likes and 1 million views. While glitches have been disappointing to many players, Alpharad took this one with stride, keeping up the fun energy of Pokémon Scarlet and Violet release day. Kept company by his new partner Sprigatito, Alpharad seems to be enjoying this new Pokémon installment alongside their over 300 thousand Twitch followers.
The First Official Mod
When a new song by none other than Ed Sheeran was released to promote Pokémon Scarlet and Violet in September 2022, just as many fans were disapproving as they were excited. Pokémon was an integral part of Sheeran's childhood, according to an interview with Guitar.com, yet "Celestial" didn't inspire the same nostalgia for many fans who disliked the track.
While the pop star Pokémon crossover was exciting for some, others wish the franchise had focused more on the Pokémon fans wanted to see return to Scarlet and Violet. Though the Pokémon Company doesn't support jailbreaking Nintendo consoles and modding games, it always happens. In the spirit of release day, Pokémon modders are getting in on the fun by dissing Ed Sheeran through one of the first mods created for the game.
World's Collide
Scarlet and Violet's legendary Pokémon Koraidon and Miradon unlocked a core memory within Twitter user Lynk Cable and the over 18 thousand others who liked their tweet. This reaction to the game is a throwback to an early SpongeBob Squareparents special with Petey the Pirate and Potty the Parrot dressed in past and future garb.
Related: 10 Creators To Watch On TikTok To Improve Your Gaming
Not only did this episode of SpongeBob inspire a recent TikTok trend thanks to its catchy tune, "When World's Collide" but also this viral tweet that celebrates the styling of Scarlet and Violet's legendaries. It's always a blast when two wildly different but equally nostalgic franchises collide, with thousands of amused Twitter users in agreement. Fans have Lynx Cable to thank for yet another funny reaction to the release of Pokémon's newest game.
Shiny
Twitter user Aspect shared their incredible luck with fellow Pokémon fans online in this tweet celebrating the shiny Fletchling they discovered not even one hour into the game. The odds are against players looking to find a shiny at all, let alone in the first hour of play on release day, making Aspects' find especially rare.
Fletchling's final evolution Talonflame was one of the 10 confirmed Pokémon fans were most excited to see return in Scarlet and Violet. The unique orange and red color scheme of Aspect's Fletchling will carry through each evolution, resulting in a rare and strong Pokémon many players would be envious of. This release day tweet inspires players to hunt for shinies of their own as they begin their adventure across Paldea.
Jigglypuff Blasting Off
Twitter page Out Of Context Pokémon caught a hilarious instance of Jigglypuff blasting off Team Rocket style as they were enjoying the game on release day. In their hilarious clip, a wild Jigglypuff can be seen jetting through the air, a phenomenon fans aren't sure is purposeful or a glitch.
Its unexpected events like this which keep fans amused and mystified at the new physics and mechanics of Pokémon Scarlet and Violet. This player took the odd event in stride, laughing along with 12 thousand other players on Twitter. Despite the oddities of the game that have been experienced so far, the reception for Scarlet and Violet is overwhelmingly lighthearted and positive, as seen in this tweet.
Celebrations
Creator Food4Dogs was awoken from a nap in the garden by Piplup and Turtwing in this adorable Twitter reaction to Scarlet and Violet release day. Lucky enough to secure the rare double pack of the game, Food4Dogs began celebrating immediately, booting up both games on duel Nintendo switches.
Seeing other fans get dressed up and take photos to celebrate release day is a heartwarming aspect of the Pokémon community, and this creator is no exception. Food4Dogs is an uplifting content creator who shares their love of handheld gaming and JRPGs online, proving gaming is for all ages. Celebrating the release of Pokémon Scarlet and Violet in style, this wholesome tweet is a reminder of the wonderful community that made the game possible.