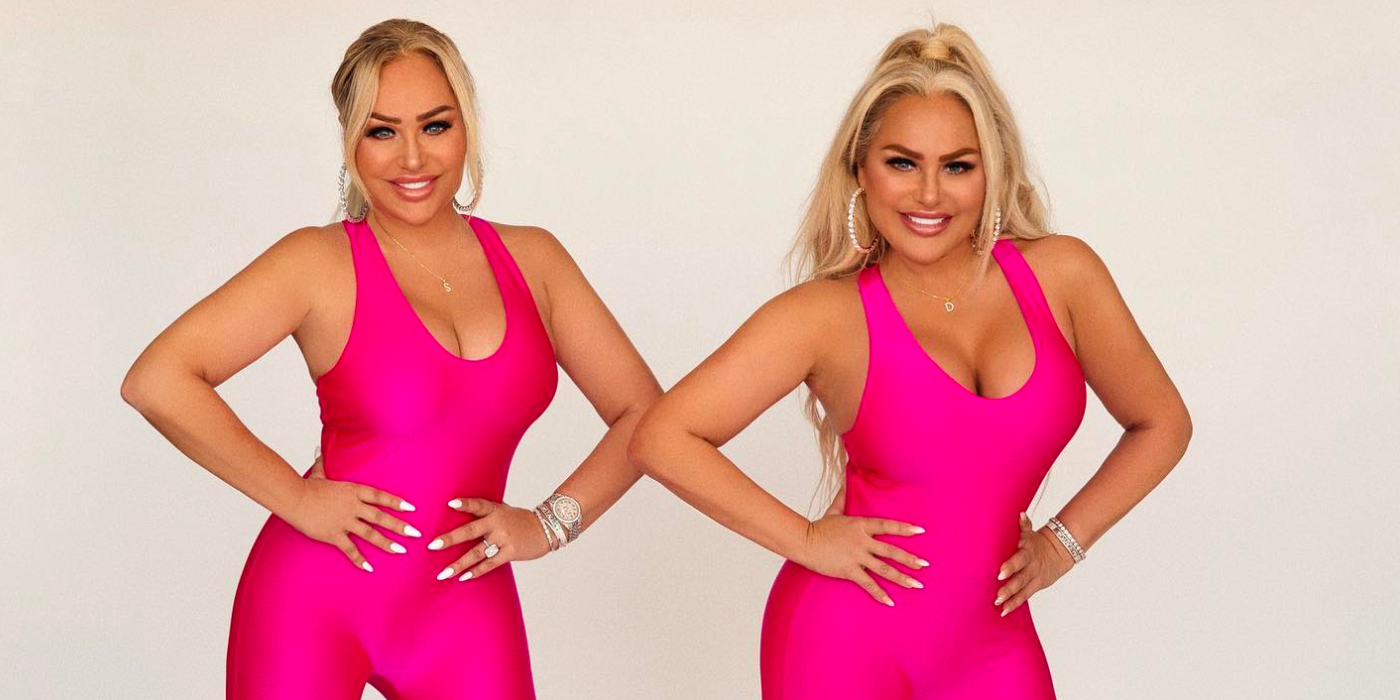 Darcey & Stacey season 4 is over, but the installment featured many exciting moments, and some of the best should be relived. As TLC star Darcey Silva and her twin sister Stacey Silva dealt with relationships, parenthood, business, and everything in between, the production team filmed it all for their audience to see. The twins were dealing with things they'd never experienced before, while stepping into new phases of their onscreen lives. Therefore, the season was filled with memorable moments. While there has been no announcement about Darcey & Stacey's next installment, the show will hopefully continue.
Though Darcey and Stacey have both been married before, this season featured the twins tackling a huge milestone. The events leading up to Stacey's wedding to Florian Sukaj were showcased over the course of the episodes. Darcey, who served as her sister's maid of honor, dealt with her own drama, due to her ex Georgi Rusev being a part of the nuptials. He stepped in to be Florian's best man. Darcey and Georgi, who seemed to have some unfinished business after hooking up a few weeks before, brought some metaphorical fireworks to the celebration. Darcey & Stacey season 4's best moments have been so much fun to watch.
6
Darcey Silva Helps Aniko Bollok Get Settled At College
Darcey's eldest daughter Aniko Bollok headed off to college during Darcey & Stacey season 4. Aniko was present on the series, and was also shown in the 90 Day Fiancé franchise. In fact, viewers have watched her grow up onscreen. Understandably, Darcey had mixed emotions about sending her daughter off to The University of Arizona. She'd made that clear throughout season 4, episode 9, "Hello & Goodbye," As Darcey helped Aniko to pack for school, she couldn't help but get emotional about her daughter growing up, and how much was changing.
Though Aniko was excited to get to school, she could see that her mother was nervous and upset because she was moving so far away. Going from Connecticut to Arizona is no small feat, and as the mother-daughter duo got closer to parting ways, Darcey was clearly feeling a lot. Before she left, the mom reassured Aniko that she could call at any time, and ask for Darcey's help with anything. The parent would hop on a flight whenever her daughter needed her. Aniko appreciated the sentiment, and seeing Darcey at her most maternal was inspiring.
5
90 Day Fiancé's Florian Sukaj & & Georgi Rusev's Bromance
Florian, Stacey's new husband, and Georgi, Darcey's ex-fiance, have a friendship that now goes beyond their relationships with the Silva sisters. Though they met due to their relationships, they bonded over their commonalities, and have been there for each other through difficult times. Both had to adjust to living in the US, and trying to keep their relationships alive, Florian and Georgi's relationship was shown in a new light during Darcey & Stacey season 4. With Georgi and Darcey's relationship having fallen apart, Florian was unwilling to give up his relationship with his best friend. He pushed the sisters to be okay with Georgi's presence in their lives.
4
Darcey & Stacey's House Of Eleven Launch
The twins' brand, House of Eleven, was launched during Darcey & Stacey season 4. Shortly into the installment, the twins had an exciting opportunity to showcase their brand. They got to show off their business acumen onscreen. House of Eleven is very important to the Silva twins. They are often shown wearing House of Eleven clothing, and working on their upcoming designs. They are doing their best to make sure that everything is top-notch. It's been fun to watch the twins become successful entrepreneurs, as they've grown a lot as businesspeople throughout the series.
3
Georgi Rusev & Michael Benz's Bachelorette Party Fight In Miami
Georgi and Michael Benz, who is a close friend of the Silva twins, came to blows during Darcey & Stacey season 4. While it isn't clear how the fight started, Georgi explained to producers in an interview segment that he felt he was being pushed by Michael for the entire day leading up to the fight. With Darcey texting a new boyfriend in front of Georgi, and Michael goading him into a fight, it wasn't surprising that after a few drinks, Darcey's ex-fiance used his fists to communicate, rather than words.
Though Georgi resorting to physical violence wasn't right, it was clear that Michael sparked the situation, and then made it vastly more dramatic than it actually was. Ultimately, Georgi was removed from the premises. Georgi, who told Florian that he didn't even really touch Michael, explained that Michael had been looking for a fight all day. Michael, who had Stacey and other friends rallying around him for support, played it up for the cameras, showing off his torn jacket, and feigning shock for the cameras.
2
Georgi's Suprising Secret At Stacey & Florian's Rehearsal Dinner
During Florian and Stacey's rehearsal dinner, Georgi dropped a major bombshell on Darcey and the rest of the wedding party. Georgi, who was upset that Darcey would be bringing her new boyfriend Zach as her date to the wedding, decided that the rehearsal would be the best possible time to announce that he was wanted to get back together with his ex. Florian's best man was hoping that a reconciliation with Darcey was imminent, as the exes hooked up in Miami a few weeks before the wedding. Members of the wedding party, including Stacey and Florian, were shocked to hear about the tryst. Darcey was embarrassed, but confirmed it was true.
1
Stacey Silva & Florian Sukaj's Wedding
Stacey and Florian, who were legally married in 2020, finally had the elaborate wedding that they'd been planning all season long. Darcey and Stacey's father had a stroke weeks before the wedding, but was able to walk Stacey down the aisle. When he did, it was a sweet and heartfelt event for the family. With Stacey looking stunning in her wedding gown, which featured elaborate embroidery and jewels, and the couple exchanging sweet vows, the wedding was a rousing success. The Darcey & Stacey stars shared a romantic first dance, making for one of the most memorable moments of the season, and the series.