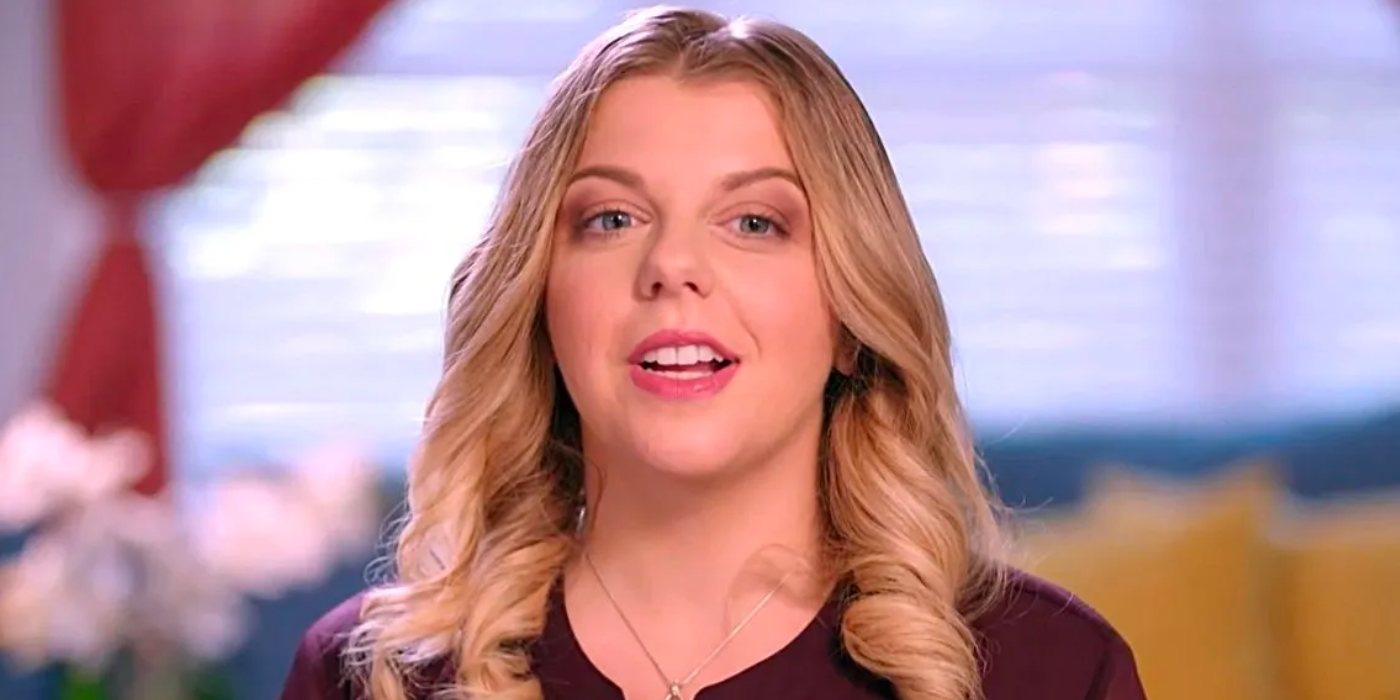 Ariela Weinberg is a controversial member of the 90 Day Fiancé franchise, and she often receives unfair criticism for her marriage, family, and style. The wife of Biniyam Shibre and mother to Aviel Shibre has undeniably had some misses when it comes to her style in the 90 Day Fiancé franchise. However, Ariela has also taken some fashion risks that eventually paid off.
After appearing on 90 Day Fiancé: The Other Wayseason 2, 90 Day Fiancé's Ariela Weinberg joined the main series inseason 9, alongside her partner Biniyam. The New Jersey native and Ethiopian man decided to tie the knot after relocating to the United States, with financial help from Ariela's wealthy parents who are doctors. Both Ariela and Biniyam have been called out for their actions over the years. Biniyam has been accused of infidelity, as he favors partying over communication and didn't defend Ariela to his villainous sisters who infamously attacked her. However, Ariela has an unusual relationship with her ex-husband Leandro Fosque, and comes off as an entitled person who relies on her parents too much. Despite some negativity, Ariela has shined on social media and is still married to Biniyam.
Related: 90 Day Fiancé's Ariela's Best Outdoor Photos Since Weight Loss
7
90 Day Fiancé's Ariela Weinberg Celebrates Ethiopian New Year
Ariela might not be one of the most popular 90 Day Fiancé franchise stars, but she is one of the most respectful Americans when it comes to embracing the culture of her partner. Countless American cast members have been accused of being culturally ignorant or insensitive, but Ariela is eager to learn more about different cultures. Ariela celebrated the Ethiopian New Year with her husband Biniyam and son Avi in September 2022, and she dressed up in more traditional attire for the festivities. Both Ariela and Biniyam both shared clips from the holiday celebration on Instagram. "One thing I say say about Ari, she has so sweetly embraced Ethiopian clothing and represented an open heart to the clothing," one fan wrote, praising Ariela.
6
90 Day Fiancé's Ariela Weinberg Wears Velvet Dress
When it comes to her formal looks, Ariela's style is very unique. However, the New Jersey native hit a high note in a blue, velvet long-sleeved mini dress. Ariela shared the look on Instagram in May 2022, as she played mini golf while wearing the formal look. Ariela paired her form-fitting dress with low heels and wore her naturally wavy hair up in a ponytail, as she opened up about her lack of athleticism. "Happy Monday! Enjoy your strengths, laugh at your weaknesses!" Ariela happily concluded in her lengthy caption. "I salute you, playing Golf wearing high heels!" one impressed fan wrote.
5
90 Day Fiancé's Ariela Weinberg Smiles In Colorful Skirt
90 Day Fiancé franchise star Ariela's joyous attitude reflects her colorful looks, as she pairs big smiles with her bold clothing. Ariela shared a video in February 2022, where she was walking the streets of Ethiopia in a bold look that suited her. The mother of Avi dressed down a vibrant and colorful patterned skirt with a simple white T-shirt, as she wore her hair back in her signature braids. "I would so love to travel, your very fortunate and kind for helping out food/supply going on," one fan wrote to Ariela, as she helped distribute food in Biniyam's home country at the time.
4
90 Day Fiancé's Ariela Weinberg Mixes Patterns In Photo Shoot
Some 90 Day Fiancé cast members prefer to play it safe when it comes to dressing up, but Ariela is not one of them. Ariela mixed several patterns for a sizzling photo shoot she took with her dancer husband Biniyam last fall, and shared the photos to their social media pages. Ariela received mixed feedback from her followers when it came to her facial expressions and poses, but her outfit suited her figure and personality. Ariela has a slightly eccentric style and a vibrant and curious view on life, which made the mixed-pattern dress perfect for her. "Ari you are a beautiful young lady and having loads of fun just enjoy yourself and pay no attention to the negative Nancys out there!" one supportive fan wrote to her.
Related: Which 90 Day Fiancé: The Other Way Newcomers Could Be Clout Chasers
3
90 Day Fiancé's Ariela Weinberg Chooses Matching Two-Piece Outfit
Ariela has been called out many times for her outfit choices on 90 Day Fiancé, as she often chose many matching sets. However, Ariela shared photos of one set she wore in September 2022, that is both cute and flattering on her. Ariela posed with Biniyam during a night out with friends. She showed off her post-pregnancy weight loss in a checkered set that featured pants and a crop top. The look was effortless and flattering on Ariela, who paired the outfit with sandals and wore her wavy, brown locks loose. "You guys look good!" one fan wrote to the 90 Day Fiancé couple.
2
90 Day Fiancé's Ariela Weinberg Stuns In Colorful Mini Dress
Though Ariela has her moody moments on 90 Day Fiancé, she is seldom seen in black. The 90 Day Fiancé star selected a signature colorful, patterned dress. It was the perfect piece to wear to Afrikfest 2022 in Las Vegas. Ariela attended the event with Biniyam and baby Avi, who were dressed in matching father-and-son outfits showing African pride. "We had so much fun! I highly recommend! It made me want to visit all those parts of Africa I haven't seen yet!" Ariela shared in her caption. "I love how you guys incorporate both countries to your child. Keep up the great parenting!!!!" one fan praised Ariela and Biniyam.
While Ariela's 90 Day Fiancé fashion misses are often pointed out, she has shared a number of colorful, vibrant, and cute outfits she wore in both Africa and America over the years. However, Ariela truly hit a high note for herself in her TLC promo photos for 90 Day Fiancé season 9 back in June 2022. The New Jersey native wore her signature vibrant, floral prints in a beautiful strapless dress that complimented her figure. Ariela flawlessly accessorized her look with a trio of bright necklaces and large earrings, while she straightened her sometimes messy hair and went full glam on her makeup. "This is a gorgeous photo of you both!" Ariela's fellow 90 Day Fiancé franchise cast member Erika Owens wrote. "This photo depicts the true Ethiopian vibe," one fan wrote to the 90 Day Fiancé star.
More: 90 Day Fiancé: Why Ariela Weinberg Looks Different After Model Makeover
Source: Ariela Weinberg/Instagram