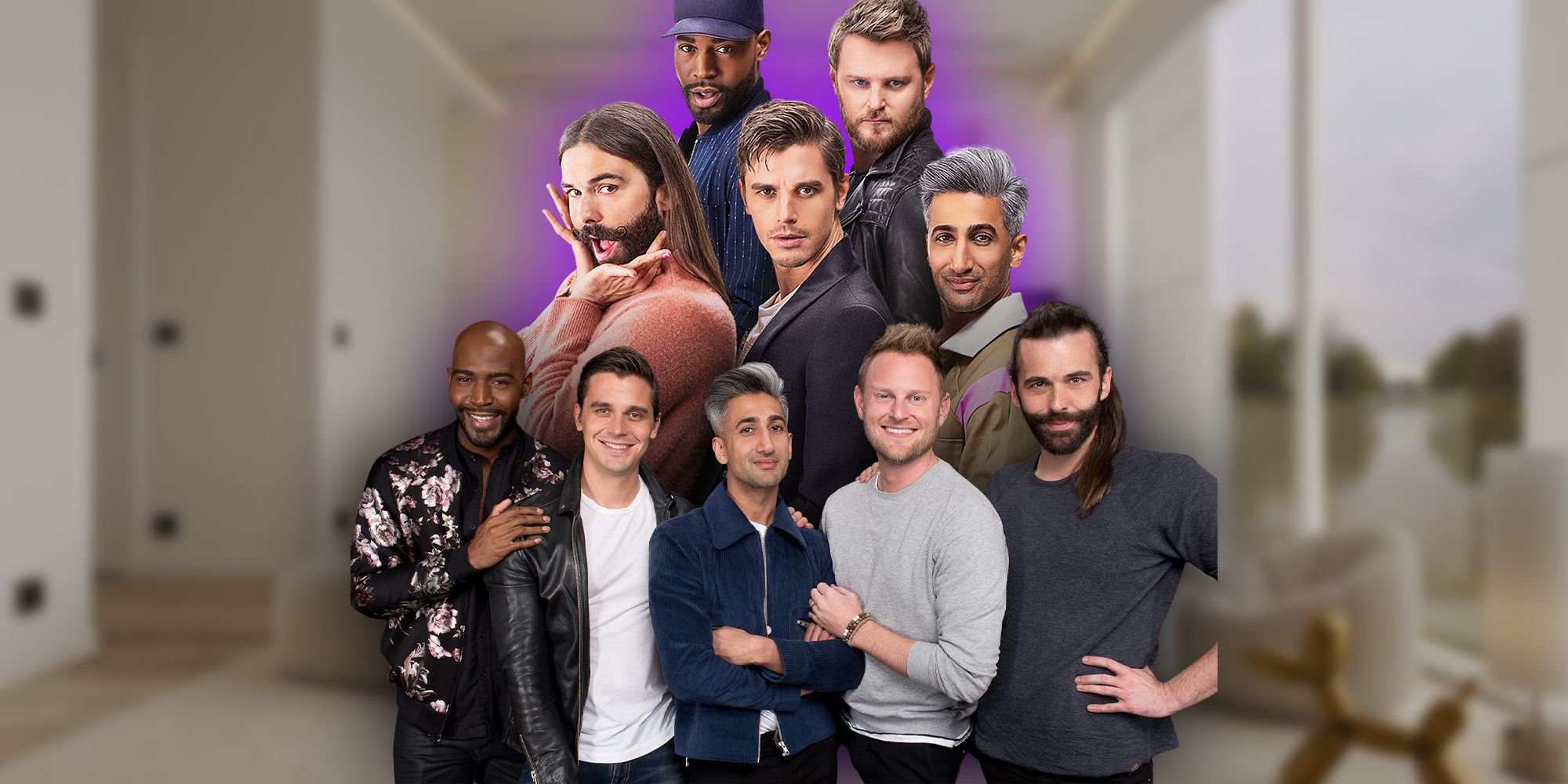 The Queer Eye season 7 premiere on Netflix is reigniting interest in the Fab Five, and it's time to discuss the current ages of cast members Tan France, Antoni Porowski, Jonathan Van Ness, Bobby Berk, and Karamo Brown. Queer Eye for the Straight Guy premiered in July 2003. On the Emmy-winning show, five gay men helped straight men by giving them makeovers, along with advice about everything from home décor to diet. Back then, Ted Allen, Carson Kressley, Kyan Douglas, Thom Filicia, and Jai Rodriguez were members of the Fab Five. The show retired in 2007, but made a comeback with a new and diverse cast in 2018.
Similar to the original Fab Five from Queer Eye, the new cast also revamped wardrobes, redecorated homes, and offered advice on grooming, lifestyle, food, and wine. The show was set in Atlanta, and the Fab Five met everyday heroes who were nominated by their friends and family. Their nearest and dearest thought they were in need of transformations. The Queer Eye Fab Five includes Tan, who covers personal style, and Antoni, who's the foodie. Jonathan's in charge of grooming, while Bobby redesigns home interiors. Karamo is the life coach of the show, who covers all things culture-related.
How Old Is Queer Eye Star Tan France?
Tanveer Wasim Safdar, better known as Tan France to pop culture fans, is a British-American fashion designer. Tan was born on 20 April 1983, and is currently 40 years old. Tan is from a Muslim Pakistani family, and was brought up in Doncaster, South Yorkshire. He founded his own clothing line named Kingdom & State in 2011. Tan's one of the first openly gay South Asian men on a major show. He married his husband Rob France in 2007, and the duo now live in Salt Lake City, Utah. Tan welcomed his first son with his husband in 2021.
How Old Is Queer Eye Star Antoni Porowski?
Antoni was born in Montreal, Quebec, to Polish natives who immigrated to Canada with their two older daughters. Antoni was born on March 14, 1984. At 12 years old, Antoni moved to West Virginia with his family. After completing his schooling in Canada and the U.S., he moved to New York City, in order to focus on his acting career. Antoni appeared in the film, Elliot Loves, and the TV series, The Blacklist. He was the last person to be cast in Queer Eye. Antoni isn't a formally trained chef, as he taught himself to cook by using his grandmother's recipes. He turned 39 this year.
How Old Is Queer Eye Star Jonathan Van Ness?
Jonathan McDonald Van Ness is also commonly referred to by his initials, J.V.N. Jonathan belongs to a family of journalists from Quincy, Illinois. Jonathan became a household name thanks to being the Queer Eye grooming expert, but he's more than that. Jonathan is a writer, comedian, and entertainer, who launched the web show Gay of Thrones long before his Netflix debut. In 2019, Jonathan revealed that he was living with HIV. He found out he was HIV+ after he fainted while doing a client's hair when he was 25 years old. Born on March 28, 1987, Jonathan is currently 36 years old.
How Old Is Queer Eye Star Bobby Berk?
Bobby's famous for being the design guru on the Netflix reality TV show, Queer Eye. Bobby is from Houston, Texas, and grew up with his adoptive parents in Missouri. Bobby moved to New York City, and worked with companies such as Bed, Bath and Beyond and Portico. Later, in 2010, he launched his own brand, an online store named Bobby Berk Home. Bobby got married to his maxillofacial surgeon husband Dewey Do in 2012, after they reportedly started dating in 2004. Once upon a time, Bobby was a drag queen named Jessica Grant. He is now 41 years old, and Bobby was born on August 25, 1981.
How Old Is Queer Eye Star Karamo Brown?
Karamo Karega Brown was the first openly gay black man on a reality TV show when he started his career on The Real World: Philadelphia. Karamo is from Texas, and is of Jamaican and Cuban descent. In 2007, when Karamo was 25, he found out that he was a father of a 10-year-old boy, Jason. Karamo came out as a gay man at 16. When they were both teens, his girlfriend (then 15 years of age) became pregnant, but didn't tell him that she was expecting. The Queer Eye culture expert Karamo was born on November 2, 1980, and at 42, he's the proud father of two sons, as he adopted Jason's half-brother Chris in 2010.