An optional side mission called "The Two Walls Stand Tall" within Wo Long: Fallen Dynasty sees players try to beat two former allies named Xiahou Dun and Xiahou Yuan right before the game's final story chapter. Two humanoid enemies that use their expertise in combat in cohesion with each other, these two warriors provide a substantial challenge as players have to juggle two bosses at once. However, unlike the fight against the monstrous Xiahou Dun in the "War's Flames Burn Fiercely" mission, this boss battle sees both characters wielding a variety of magics alongside physical attacks designed to exploit the player's bad habits.
Before engaging in this fight, players should take the time to upgrade their Dragon Cure Pot capacity in Wo Long: Fallen Dynasty as much as possible to heal often. In addition, raising Fortitude Rank and Morale at Battle Flags or Marking Flags around the area are also great ways for players to prepare for this challenging boss fight. Finally, a general tip to remember going into battle against Xiahou Dun and Xiahou Yuan is that their humanoid status makes them weak to staggering if players drain enough of their Spirit Gauge with fast attacks.
Related: Wo Long: Fallen Dynasty – All Village Of Calamity Flag Locations
How To Defeat Xiahou Dun & Xiahou Yuan in Wo Long: Fallen Dynasty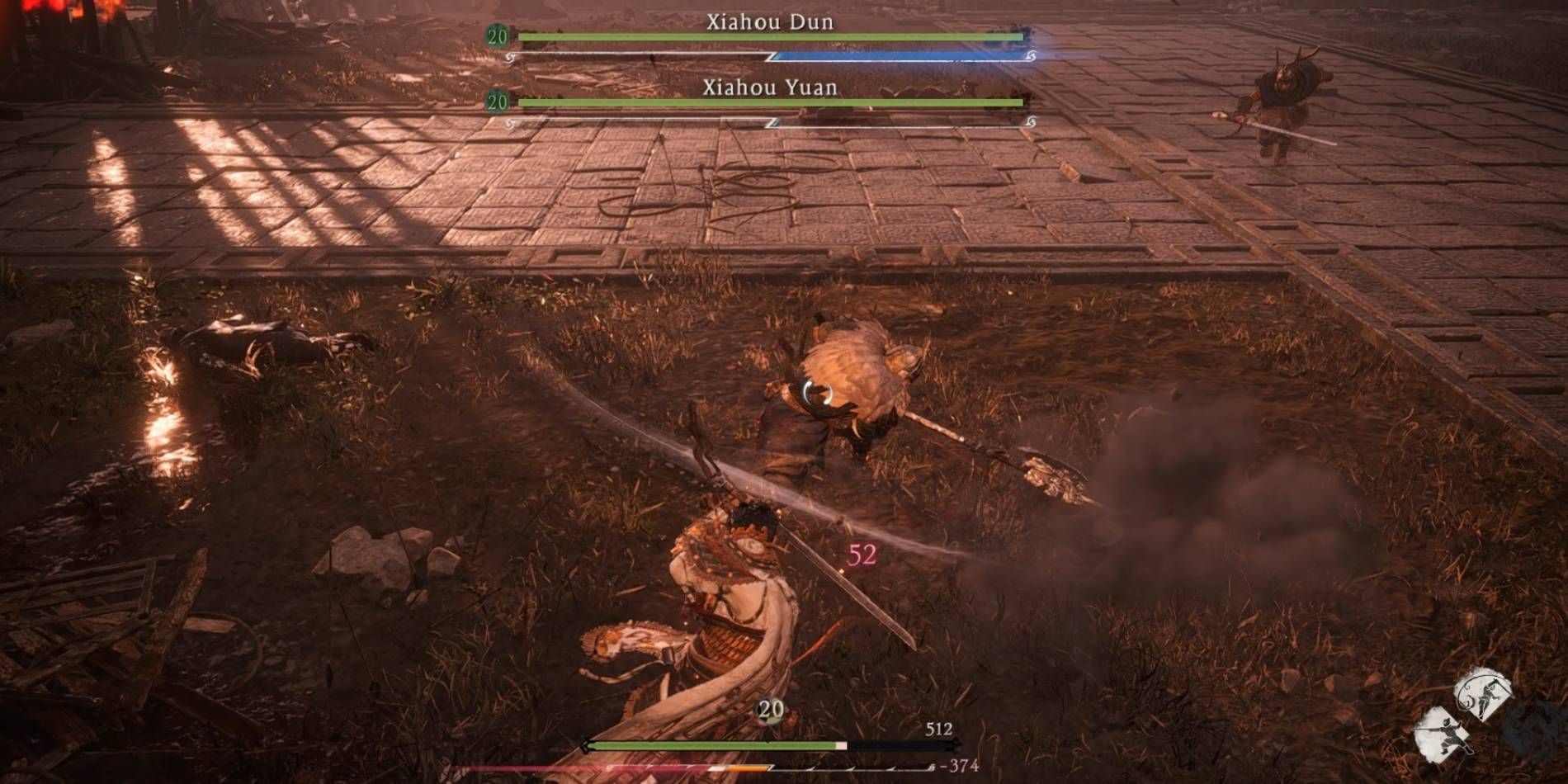 Three methods have proven to be consistently effective against both Xiahou Dun and Xiahou Yuan are to use fast weapons, parry or deflect their critical attacks, and utilize large AoE magic to hit both of them at the same time. Some of the best weapons to get first in Wo Long: Fallen Dynasty, such as certain types of Dual Swords, work well in this fight, as more attacks give players more opportunities to build positive Spirit and stagger either foe for good damage. In addition, since players fight both bosses in a reasonably large arena, they have plenty of space to react and swing faster weapons.
Xiahou Dun and Xiahou Yuan have attacks that are relatively easy to spot, giving players a chance to deflect strikes or critical blows. Players are recommended to use the ample space at their disposal to fall back often, letting their enemies attack first before retaliating. Powerful Wizardry spells like Sandsink, Imposing Slab, or Engulfing Inferno are excellent in this boss battle, as they inflict damage over a large Area of Effect (AoE) that could hit both enemies.
Each boss has three critical attacks similar to early-game foes like Zhang Liang in Wo Long: Fallen Dynasty. However, Xiahou Dun uses heavy strikes with a two-handed swing of their weapon, while Xiahou Yuan has much faster and long-reaching attacks. This duality in combat styles could be confusing at first, but by focusing on defense and reacting patiently, players are more than able to beat both Xiahou Dun and Xiahou Yuan in Wo Long: Fallen Dynasty.
More: Why Wo Long: Fallen Dynasty's First Boss Is So Hard To Beat
Wo Long: Fallen Dynasty

Platform:

PlayStation 4, PlayStation 5, Xbox One, Xbox Series X/S, Microsoft Windows, Steam

Released:

2023-03-03

Developer:

Team Ninja

Publisher:

Koei Tecmo

Genre:

Action RPG, Hack and Slash, Soulslike

Multiplayer:

Online Co-Op

Engine:

Proprietary Team Ninja Engine

ESRB:

M

Summary:

Wo Long: Fallen Dynasty is a new action-soulslike game from Team Ninja, the developers of Ninja Gaiden and Nioh. Set during the Later Han Dynasty of the Three Kingdoms, players will create their own military soldier battling within a great war, trying to survive and repel the Yellow Turban rebellion. Inspired by ancient Chinese mythology and history, players will learn to master various weapons and magic spells as they face legendary soldiers and powerful and monstrous beasts on their quest. To even out the difficulty, players can choose to face foes at their level for a more careful path or face greater foes for even greater rewards.

Mode:

Single-Player, Multiplayer