[ad_1]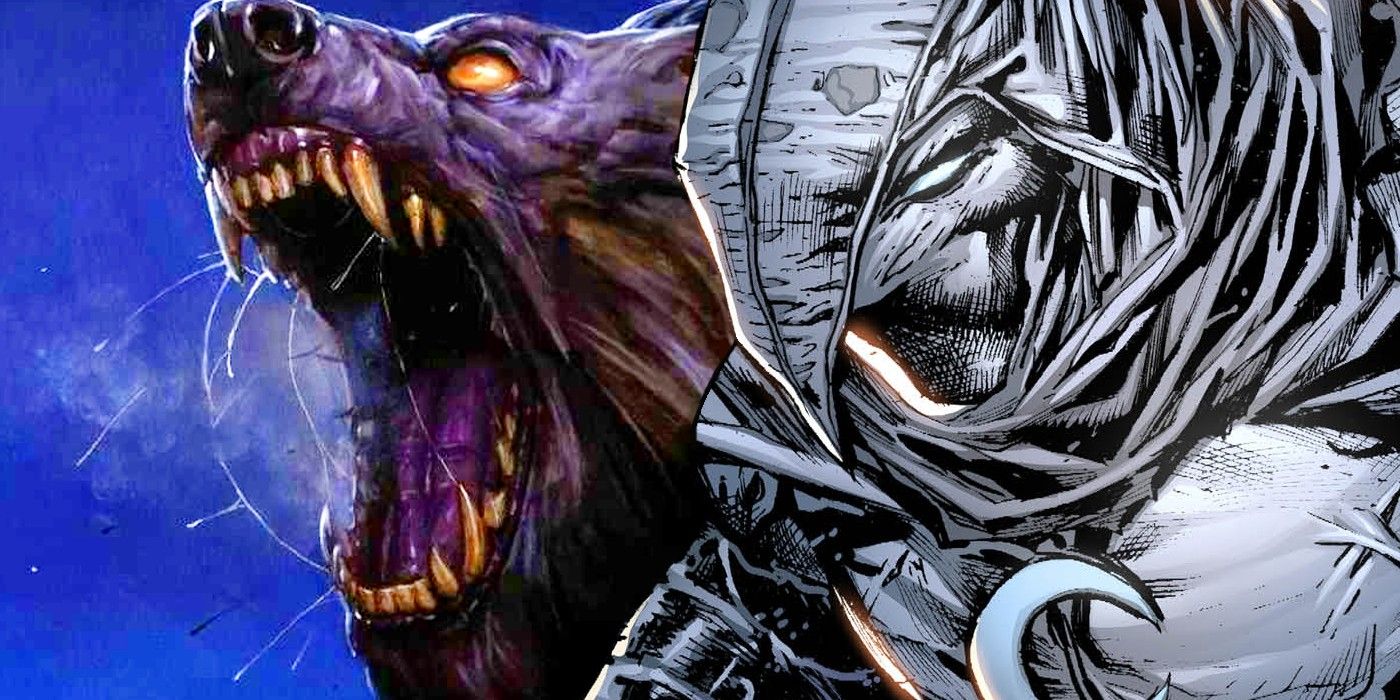 Warning: contains potential spoilers for Moon Knight Annual #1!The Darkhold will drive anyone who reads it insane, but Moon Knight has discovered that Werewolf by Night used it for a power boost. Moon Knight and the Werewolf have a long history together, and in a preview for Moon Knight Annual #1, readers learn their feud has just escalated. The Werewolf has received a serious upgrade thanks to the Darkhold, and he plans to use his new power to stomp out Moon Knight once and for all. The issue goes on sale in print and digital October 26th.
As stated earlier, Moon Knight and the Werewolf have history, stretching back to the former's first appearance in 1975's Werewolf by Night #32 by Doug Moench and Don Perlin, in which the Fist of Khonshu was hired by the Committee to bring the Werewolf in. Moon Knight learned the truth of his employers and turned on them, letting the Werewolf go. In the years since, Moon Knight has become one of Marvel's most popular characters, even receiving his own show on Disney+; likewise, the Werewolf has made his MCU debut as well. While it remains to be seen if the two will meet on-screen, they are heading for a rematch in Moon Knight Annual #1. The issue is written by Jed MacKay, illustrated by Federico Sabbatini, colored by Rachelle Rosenberg and lettered by Cory Petit.
Related: Moon Knight Gets Jaw-Dropping Redesign in Fanart Marvel Needs to See
The preview opens with Moon Knight's ex-lover, Marlene, arriving at the Midnight Mission. He introduces himself as Mister Knight, but Marlene refuses to call him that. She informs him that their daughter Diatrice has been kidnapped by werewolves, led by Jack Russell–the Werewolf! Marlene saw Russell, and despite not having seen him for years, she still recognized him; she informs Moon Knight that Russell has changed somehow. Furthermore, Russell tells Marlene where Moon Knight can find him, challenging the Fist of Khonshu to come rescue his daughter. Moon Knight, upon hearing Russell's name, becomes visibly agitated. Readers also see Russell and learn Marlene was right: he has changed. He boasts of reading the Darkhold and retaining his sanity as well as the fights for werewolf supremacy he has been in. Russell then declares himself "the King of Wolves," and promises to stomp out Moon Knight.
The Werewolf Can Finally Destroy Moon Knight.
The preview ends there, leaving readers hanging until October 26th to see the Werewolf and Moon Knight throw down, but it is clear that the Werewolf has received a serious upgrade–largely thanks to the Darkhold. Russell openly states he read the Darkhold and retained his sanity. This alone puts Russell into a category all his own, no one has been able to read the Darkhold without succumbing to its evil influence. Since the Werewolf was able to do this, he was able to harness its power into becoming the King of All Wolves. Moon Knight protects travelers at night, and this makes him the enemy of not only Jack Russell, but werewolves everywhere; thanks to Russell's leadership, they may stand a chance at destroying Moon Knight once and for all.
Of course there is a possibility Russell is not telling the truth, and he has fallen under the Darkhold's spell after all. Russell has in the past fought alongside the good guys, but if he has indeed fallen under the Darkhold's influence this would explain his change in appearance and demeanor. Whatever the case, Moon Knight is in for the fight of his career against the Werewolf by Night, who has received a massive upgrade thanks to the Darkhold.
Next: Werewolf by Night Perfectly Reinvents First Ever Villain
[ad_2]

Source link