According to David Spade and original director Roger Allers, the original version of Disney's The Emperor's New Groove would have starred Owen Wilson as the peasant farmer Pacha. The 2000 Walt Disney Feature Animation film starred Spade alongside John Goodman, Eartha Kitt, and Patrick Warburton. The Emperor's New Groove centers on Spade's self-centered Incan emperor Kuzco, who is transformed into a Llama following a botched assassination attempt and sent on a journey that will alter his worldview.
When speaking to Vulture about the extensive, troubled production of The Emperor's New Groove, the film's original director Allers revealed that there was a different actor other than John Goodman that was intended to play the role of the character who would become Pacha. Allers revealed that Owen Wilson was originally considered to play the peasant, with Spade then revealing that he and Kuzco would trade places in the film's original drafts. Check out Allers and Spade's full explanation below:
Roger Allers (director, The Kingdom of the Sun): Owen Wilson was the lead, the llama herder, Pacha. I think he had just done Bottle Rocket, so no one really knew him, but he had this kind of slow, drawly way of speaking, which felt like an equivalent of someone from out in the sticks. And of course, we were familiar with David Spade from Saturday Night Live. They were a fun contrast.

David Spade (Kuzco): It was me and Owen Wilson. We were going to switch jobs. I was an emperor and he was a peasant, and Carla Gugino was a princess. The first time I did my voice, I was naïvely saying, "What do you want? This kind of guy? A deep voice? Or an emperor like, 'Ooh,' a highfalutin guy?" And they said, "No, just your nasally, normal, annoying, sarcastic voice."
Related: Every Movie Owen Wilson Says Wow In (& How Many Times He Says It)
Why The Emperor's New Groove Is Still So Loved Today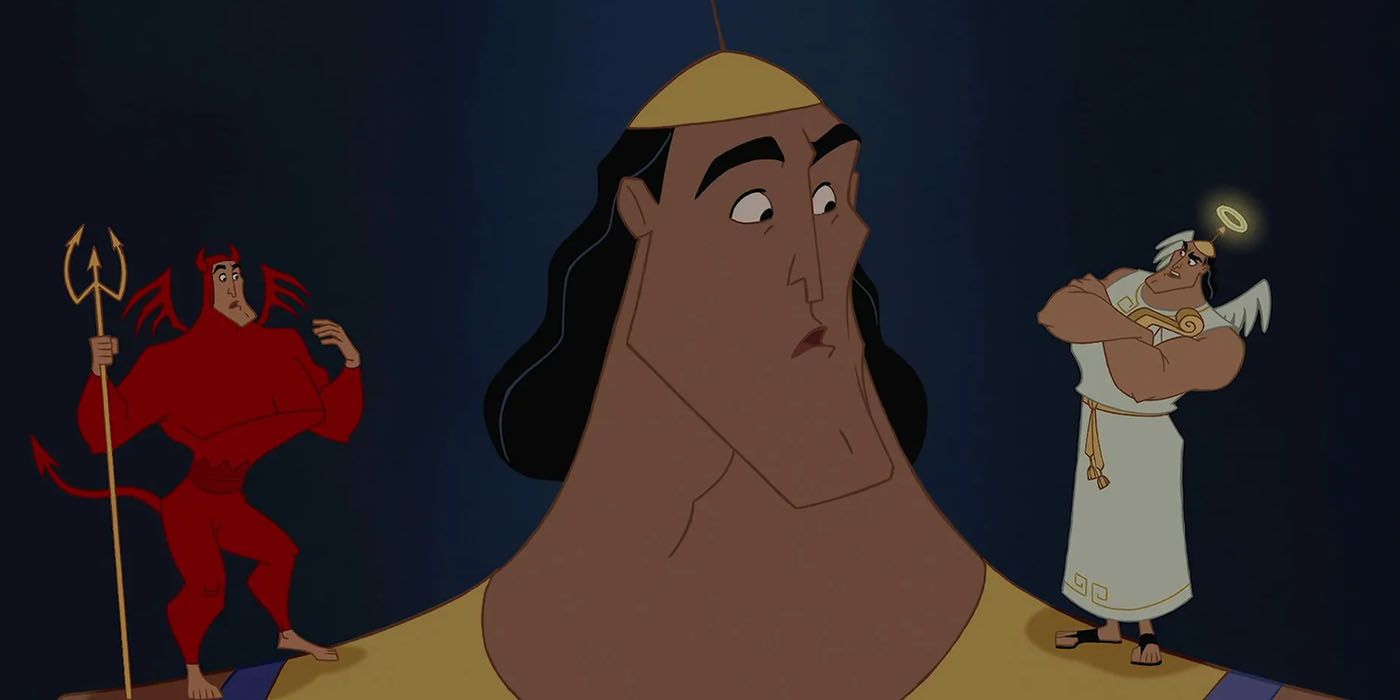 Production began on The Emperor's New Groove following The Lion King's release in 1994, though it ultimately wouldn't release until after the "Disney Renaissance" period of the studios' history. Originally titled Kingdom of the Sun, the original film would have followed a story inspired by Mark Twain's The Prince and the Pauper between an emperor and a peasant, though the character who would become Eartha Kitt's Yzma would try to manipulate the two in a plan to obtain eternal youth. When Pocahontas and The Hunchback of Notre Dame performed short of the studios' expectations, the film was reworked to be more comedic following test screenings. Allers left the project following extensive studio interference and would leave Mark Dindal to overhaul the production into what it would ultimately become, but the film's box-office would only just make back its $100-million budget and be considered a financial failure.
Despite an underwhelming release for Disney, The Emperor's New Groove's cast of characters have endeared themselves to the fanbase. While it was a far cry from the film's original plans, the film's slapstick comedy and characters were some of the elements that have become often referenced as time has passed, most notably Patrick Warburton's Kronk, whose slow-witted but dedicated nature has made him a standout amongst the cast. Moments, such as Kronk pulling the lever to a trapdoor beneath Yzma's feet and him carefully piecing together evidence to himself, have become memes online through forums and screen grabs. As such, The Emperor's New Groove has been given a new lease of life through memes on social media, introducing new audiences to the film.
Whether through memes centered on fan-favorite character Kronk or having grown up through the Disney animated film and its later spin-offs, The Emperor's New Groove has remained a beloved film despite its disappointing original release. As such, while Aller's The Prince and the Pauper-inspired story never saw reached the screen, it is indubitable that the final film has found its place among Disney's other hit features. Despite this, it is a matter of what could have been if Wilson and Spade had been given the chance to play the Emperor and his peasant lookalike, and how both actors would have worked together to convey the unique dynamic.
More: All 10 Disney Animated Movies Releasing After Strange World
Source: Vulture