Fleishman Is in Trouble | Disney+
You & Me | ITVX
The Consultant | Amazon Prime Video
The Dangerous Rise of Andrew Tate (BBC Three) | iPlayer
If anyone out there dislikes voiceovers – finds them distracting, or a cheat, or just plain irritating – they may struggle with the new Disney+ drama Fleishman Is in Trouble. In this adaptation of New York magazine writer Taffy Brodesser-Akner's acclaimed 2019 novel about a Big Apple Jewish doctor (Fleishman) whose ex-wife disappears, the voiceover is relentless. The same witty, acerbic narrator propels the novel, but with the voiceover pounding through the opener, and with Brodesser-Akner writing seven of the eight episodes, you could be forgiven for panicking: is the entire story just going to be read to us?
This makes Fleishman Is in Trouble sound bad, which it isn't. It's a clever, intricate, mostly persuasive study of marital emasculation, money, status anxiety, midlife burnout and lost potential on the Upper East Side. Toby Fleishman, played by Jesse Eisenberg with dorkish tetchiness, is a liver doctor who's divorced from social-climbing theatre agent Rachel (Claire Danes in fine, explosively brittle form). Fleishman is juggling work, fatherhood and, quasi-Philip Roth style, his unexpected hotness on dating apps. Then, one morning in 2016, Rachel drops off their two children in order to go on a yoga retreat and never returns. The initial puzzle (where is Rachel? Is this an aged-up Gone Girl?) evolves into the true mystery: who is Rachel – who is anyone behind their carefully constructed social mask?
While a later episode illuminates Rachel's perspective, Fleishman reconnects with old friends, commitment-phobic Seth (Adam Brody) and (spoiler alert) our hardworking narrator, Libby. A one-time journalist, now a restless, acidic, rebelliously smoking New Jersey stay-at-home mother, she's played superbly by Lizzy Caplan ("I'm not at the magazine any more. I'm not anywhere any more"). With the main cast playing their college-aged characters in flashbacks, their "younger" faces appear practically shimmering in celestial light – a metaphor for youth, if ever you saw one, but also inadvertently comical.
There are problems beyond the endlessly yapping voiceover. I don't recall the Toby of the novel being such a tiresome, self-righteous whinger. Unlike in the book, his dating app escapades appear dated and sleazy. Ultimately, Fleishman Is in Trouble is strongest when viewed as a fortysomething New York cautionary tale.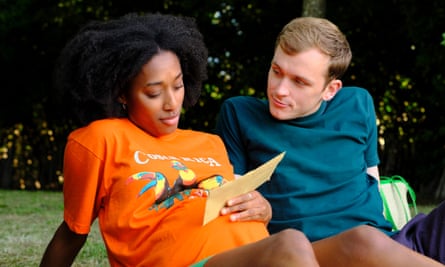 Over on ITVX, You & Me is a three-part drama about young people that dares to be a contemporary Love Story-style weepie. A concept that, these days, feels radical and shocking: where are the serial killers and vampires – isn't anyone going to shapeshift? From actor and first-time screenwriter Jamie Davis, it's co-executive-produced by Russell T Davies (creator of It's a Sin and the recent Nolly) and directed by Tom Vaughan (Doctor Foster). Journalist Ben (Harry Lawtey, who plays Robert in Industry) is running for a London bus and meets Jess (Sophia Brown). They fall in love and have children, but life deals a savage blow. Another character appears, actor Emma (Jessica Barden), who is also reeling from a tragedy.
This is a drama about love, heartbreak and recovery. It's been a while since I've seen something so unashamedly slushy, so allergic to cynicism. While the tone becomes somewhat overwrought (a veritable tsunami of emotion) and the plot is sketchy (Ben is idle and work-shy even for a professional journalist), it powers through on strong performances (Julie Hesmondhalgh appears as one of the parents) and raw sweetness. It's interesting to see Lawtey casting aside Industry's emotionally frozen Robert to deliver Ben's thawed-out vulnerability.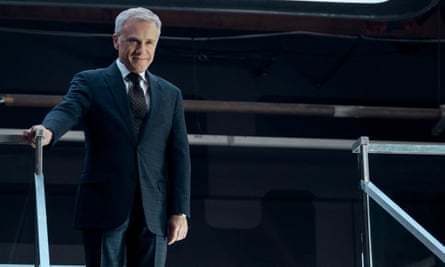 Offering something a little different, there's the eight-part, blacker-than-black comedy drama The Consultant (Amazon Prime Video), adapted by Tony Basgallop (Servant) from the 2015 novel by cult horror writer Bentley Little. After a tragedy, a business consultant played by Christoph Waltz arrives to take over at CompWare, which makes games for mobiles. However, the consultant is eccentric verging on menacing: like a Dalek, he has difficulty with stairs; during a workplace drink in a bar, he ponders: "How many patrons do you think we could really fight in a brawl?" His employees Elaine (Brittany O'Grady) and Craig (Nat Wolff) discover an eerie records room. At the end of the first episode, a startling scene – involving the consultant subjugating another character – serves as a timely reminder that you're not watching The Vicar of Dibley.
Delivered in snappy 30-minute bursts, there's a whiff of thematic sulphur about The Consultant. It also seems to aim to be a comment on workplace culture and how the gaming industry contains the same toadyism, presenteeism and suck-it-up anxiety as anywhere else. Stick around for the entire series and you'll get storyline riffs on gold, amputees, marauding elephants – and much more. And therein lies the problem: while deranged enough to be gripping, The Consultant ends up being a little too baggy and chaotic for its own good.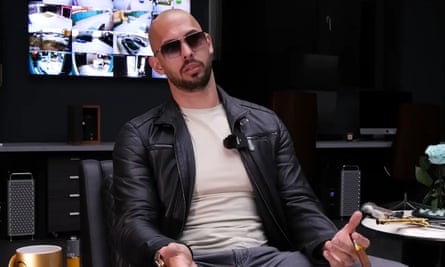 The documentary The Dangerous Rise of Andrew Tate (BBC Three) is a Vice special report about the "king Of toxic masculinity". Tate is the kickboxer turned reality TV contestant turned ultra-viral peddler of monetised misogyny, whose videos and views (samples: a "pimpin' hoes" online course; women should be held partly responsible for their own rapes) have been viewed more than 11bn times.
In this report, Vice journalist Matt Shea interviews Tate at his Romanian compound and at his retreat in the Carpathian mountains ($5,000 a pop for his devotees to "test their manhood"). Tate jabbers on (guns, swords, generalised paranoia) and forces Shea ("Don't be a pussy!") to participate with others in a bizarre fighting tournament. Around the time of filming, things start to unravel for Tate, initially with bad press and social media bans. In December 2022, Tate and his brother were arrested as part of a rape and human trafficking investigation.
It's disheartening but unsurprising to learn that some of the scared, anonymous women who talk here, accusing Tate of rape, battery and choking, contacted the police, to no avail. Elsewhere, Shea deserves credit for asking Tate tough questions in increasingly intimidating conditions. What the documentary lacks is enough societal context – how does someone like Tate happen? Men like this don't just pop out of thin air like dark blowhard genies.
Star ratings (out of five)
Fleishman Is in Trouble ★★★
You & Me ★★★
The Consultant ★★★
The Dangerous Rise of Andrew Tate ★★★
What else I'm watching
Liaison
(Apple TV+)
A French-British international political thriller about ominous cyberattacks, starring Vincent Cassel and Eva Green. Created by Virginie Brac (Spiral), it has an alarming plot point about heightened UK security risks created by – you guessed it – Brexit.
Ukraine from Above: Secrets from the Frontline
(Channel 4)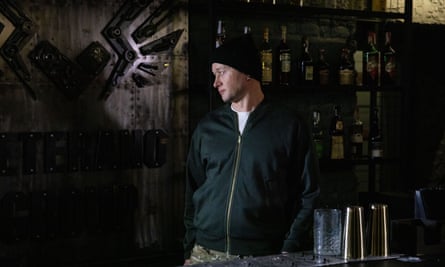 A documentary looking at low-tech, surprisingly effective methods of ground resistance in Ukraine. Previously civilian Ukrainian fighters, including a schoolboy and a musician, operate drones targeting enemy positions.
David Bowie: Love You Till Tuesday
(Sky Arts)
Calling Bowie aficionados. A short promotional documentary showcasing a young Bowie, pre-mega-fame. Made in 1969, but not released until 1984, it features songs, mime, Bowie in a wig and a Space Oddity segment.