Cobra Kai season 5 was originally going to include a UFC as a main villainous sensei, but those plans were changed because of scheduling conflicts.
Cobra Kai season 5 almost included a UFC fighter as one of its main villains. Season 5 of the hit Netflix series took a turn, humanizing the stalwart antagonist Kreese while maintaining his edge. It did so in favor of focusing on other baddies, like the returning Terry Silver and his new partner Kim Da-Eun (Alicia Hannah-Kim). By the end of the season, only two of those remained in play as the police hauled off Silver. But it sounds like the story could have gone very differently.
In an interview with the New York Post, UFC fighter Stephen Thompson revealed that he was going to have a much bigger role in Cobra Kai season 5. Thompson, who has 16 wins in his MMA record, reflected on his cameo in the Netflix series and revealed that he could have been one of the season's main bad senseis. But, because of scheduling issues, Thompson had to settle for a smaller part as Sensei Morozov in two episodes. In the quote below, the fighter mentions that he could be back for Cobra Kai season 6:
That actually, I think, has to do with a lot of the fans or the fans knowing that I'm — when you think of karate, especially if you're an MMA or karate guy, you think of Stephen "Wonderboy" Thompson. They kind of, I guess, annoyed them a little; I don't know how they did it. I also had a friend of mine that I'd met years in the past, and he's actually one of the stunt choreographers to "Cobra Kai," so he invited me out: me, Tyron Woodley, had some other guys. What was cool, I was supposed to be one of the main bad guys in it, one of the main bad senseis, but they decided to film the main fight scene during the week I was getting ready for Belal [Muhammad]. I was fighting Belal, so I wasn't able to do that in a time crunch. They said, "Look, we'll keep you in a cameo. Hopefully, we'll be able to get you back out here for the sixth season."
Related: How The Karate Kid 3's Original Plans Would've Changed Cobra Kai
Cobra Kai's History With Cameos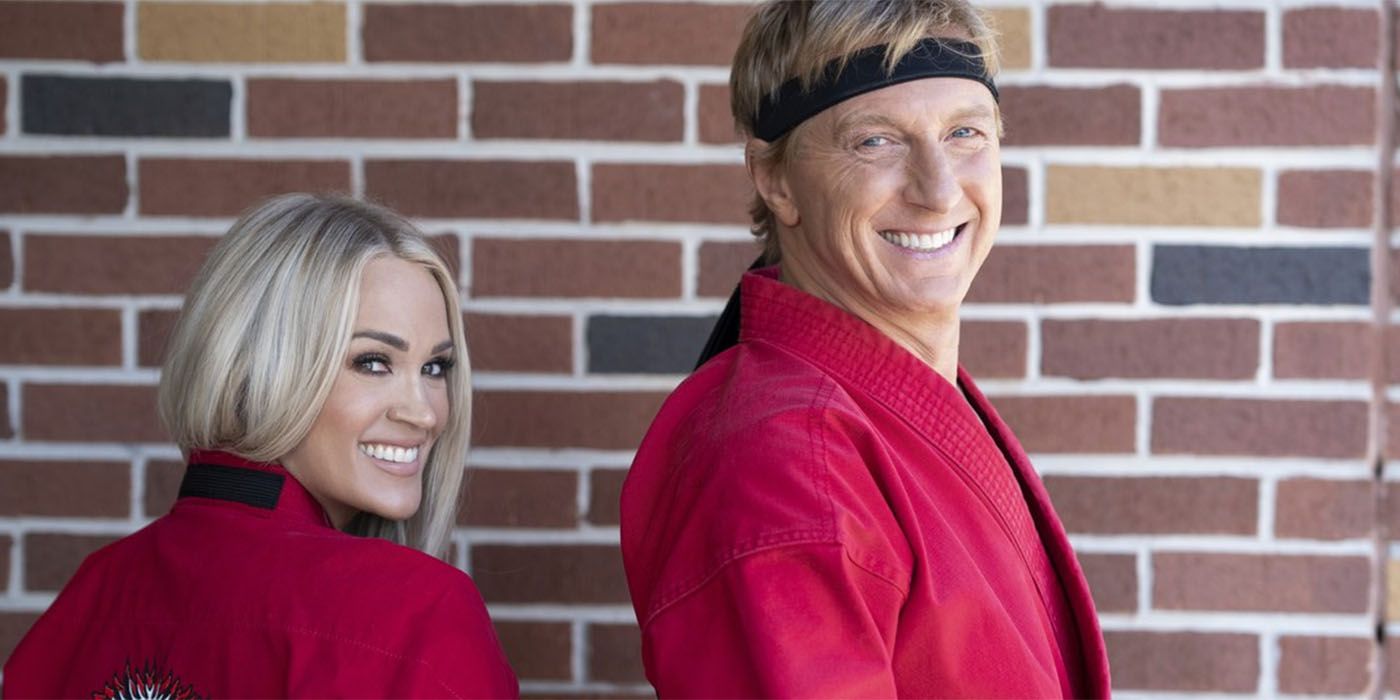 Because of its connection with Karate Kid, much of the discussion around Cobra Kai is related to whether the Netflix series might be willing to bring back some of its legacy alums, such as Hilary Swank reprising the role of Julie Pierce, but the spinoff has a bit of a track record with cameos apart from that. Thompson isn't the only UFC fighter to appear in Cobra Kai season 5, for example, as fellow bruiser Tyron Woodley also makes an appearance. Though brief, the former UFC champion received headlines for his involvement.
The spinoff has likewise attracted attention from the world of country music. Carrie Underwood made a surprise appearance towards the end of season 4, singing a rousing tune and getting in on the dojo fun. Underwood's involvement was handled in a typically cheeky way, with the script lampshading how unlikely it would be for a celebrity to show up in Cobra Kai's relatively low-key karate tournament.
In that sense, UFC fighters and wrestlers are a better fit for the Netflix show. Although not direct, there's been a bit of crossover with AEW and Cobra Kai as well. Perhaps it's something that could be built upon for future seasons and any potential spinoffs, with the likes of Thompson and Woodley getting the chance to face off against Daniel and Johnny.
More: Cobra Kai Is Running Out Of Karate Kid Cameos
Source: New York Post