Japan's movie and anime industries have always provided their viewers a distinctive content. The number of anime viewers or manga readers is increasing day by day. This industry generates a revenue of 25 Billion USD each year and is expected to grow at a rate of 10% in the years to come. The main reason for its popularity is the wide range of genres it provides to which all viewers can easily associate. 

Anime most of the time is the adaptation of popular manga comic series which is already a hit among the readers. The adaptation of the same manga in anime is the value-added service the viewers receive and enhances their experience. Another reason why Anime is deeply loved by all is that it makes content for all age groups hence, it has a larger audience of all generations. The main credit for the expansion of anime outside Japan should be given to dubbing artists and the channels that telecasted them. You will find many people who might have watched Pokémon, Haikyu!!, Doraemon and of course Dragon Ball during their childhood. All these are popular anime series made in Japan. 

Now, talking about the manga series, they have few readers outside Japan. Unlike Anime, manga has always been restricted due to unknown reasons. Animes such as Berserk, One-Punch Man, Attack on Titan, Dragon Ball Z, Haikyuu, and Demon Slayer became popular only when the anime version was launched outside of Japan. Still, some manga series go unnoticed and are yet to be adapted into anime, and Vagabond manga is one of them. 
Vagabond manga background
This is a popular manga series written by Takehiko Inoue whose other great work includes writing the "Slam Dunk" manga. This is based on Japanese martial arts and depicts the story of a swordsman Musashi Miyamoto. The series in Japanese has been published by Kodansha Seinen while in English by Viz Media having 37 volumes each. Millions of copies have been in circulation and it remains one of the best manga series of all time. Besides, it also won the sixth Tezuka Osamu Cultural Prize way back in 2002 and the 24th Kodansha Manga Award in 2000. 
What is the story of the Vagabond manga series?
The story takes you to a significantly ancient time around the 1600s when the Battle of Sekigahara has recently occurred. Takezō Shinmen and Matahachi Hon'iden are two teenage soldiers aged around 17 who have participated in the war but have lost, unfortunately. They both survive the attack and flee to a secluded location but are hopeful to return someday to become "Invincible Under The Heavens".

The path to their destination wasn't going to be easy at all as the Tsujikaze gang soon attacks their first site where they have taken a sanctum along with two women. After this incident, they have different opinions and want to part ways. Matahachi prefers to stay with the women while Takezo continues to lead a vagabond lifestyle and accept the challenges on his way. 

Takezo visits his village where he informs Matahachi's mother that her son is alive, but she falsely accuses him leading to his banishment from the town. He then meets a monk named  Takuan Sōhō who convinces him to reconsider his options in life. Takuan Sōhō frees him from his bondages and renames him, Musashi Miyamoto. 

Post 4 years, Musashi arrives in a town called Kyoto to fight the Yoshioka swords. He inducts many disciples under him but his place is gutted down by the fire leaving him severely injured. Matahachi is able to rescue him while his wounds are treated by Takuan Sōhō. After healing he continues his training with a young boy named  Jōtarō. Later on, his whole journey is filled with fights with different warriors like Baiken Shishido,  Hōzōin Inshun, and  Yagyū men.
When will be the Vagabond anime released?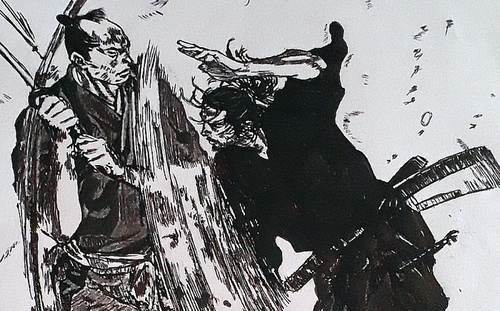 For "Slam Dunk" which is another manga by Takehiko Inoue there already exists an anime by the same name. Still, no such anime announcements or releases have been made for the "Vagabond" franchise. This is the thought that pricks fans the most and are eagerly waiting for an anime season or movie for "Vagabond" manga. There is not even a single point of reference that indicates its anime adaption in the years to come.

 This is one of the major drawbacks of the anime industry. Let's take an example of a movie like "Fast and Furious", before the official release of the movie, shooting takes place at different locations and the paparazzi are able to figure out the name and some leaks about the movie whereas, in the anime industry, you will never know wheater a particular studio is working on the project or not because have the least interaction with the outside world. 
Who will make anime on Vagabond manga?
There hasn't been any news in circulation regarding this question but we will update it on our website with relevant facts. There are countless studios that deal in Anime but I wish that it should be produced from the one having years of experience and has previously dealt with similar projects.
Where can I watch Vagabond anime if it is released in the future?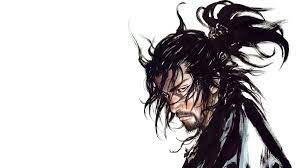 Finding an anime, show, web series, or movie after release is never a problem. There are countless websites and platforms that will provide you with the Vagabond anime after its release. Vagabond manga is a famed one, so you can expect it to be rolled out on Netflix, Disney+ Hotstar, or Prime videos. Crunchyroll is also a good option to explore. It is definitely cheaper than the previously mentioned platforms and deals exclusively in anime movies or series sections. 
However, if you want to watch any web series, anime, or movie for free, then there are several torrent websites that offer a good quantity of animes that you should definitely check. To navigate these websites you simply need to search it on your browser and type the name of the websites. Then you need to navigate into their anime genre where you can search for your desired movie or anime series. Top-ranking websites have been mentioned below:
Hulu

Anime TV

kissmanga.com

https://animixplay.sc

mangaz.com

k-manga.jp

Gogo Anime

anime-planet.com

Anime Lab

https://9animetv.to/

kissanime.ru

animenewsnetwork.com

https://aniwatch.to/

Funimation

chrunchyroll

mangago.me

justwatch.com

9Anime

animixplay.to

Telegram