Invincible Season 2 – release date announcement and teaser
After a teaser video of Invincible Season 2 was released on the official Prime Youtube channel, fans on social media were really beefed up to know about the "Invincible Season 2 release date".  Twitter, Instagram, and other social media platforms were flooded with #hastags followed by appeals from the fans for next season. I am pleased to reveal that all their petitions and hard work did not go in vain. Fans were eagerly anticipating the new season in March because the first season was released two years ago on 25 March 2021 in the same month. The delay in the timeline was due to the pending renewal from the officials of "Prime Video".
"Robert Kirkman" the writer of the Invincible series has indicated that due to production timeline constraints, the 2nd season might get shifted towards the end of 2023. But to phase the delay in rolling out the second season, there is also good news for fans that season 3 will also be made which was shared from the official Twitter account of "INVINCIBLE". To further strengthen this news, "Vernon Sanders" co-head of "Television at Amazon Studios" disclosed that 2nd season's release is scheduled for late 2023.
So far, there is only a teaser available for the "Invincible- second season" on Prime Video which has harnessed 6.6 Million views after it was released 5 months ago on 20 January 2023 on the eve of 20 years of the comic's anniversary. The teaser will soon be followed by a trailer and then the second season will be available on Prime towards the end of 2023.
Here is a quick Intro about the Invincible series for fans who are yet to binge-watch Invincible
View this post on Instagram
The first season of the animated series was launched on 25 March 2021 on the Amazon Prime Video platform. This animated series is based on comic books written by "Robert Kirkman" who has also written "Outcast" and "The Walking Dead" series. His works in Invincible are illustrated by "Cory Walker" and "Ryan Ottley" while the whole comic series is illustrated by "Image Comics". 

For someone who is going to see the show for the first time he might see "Invincible" at par with "Marvels" and "DC". Even the characters appearing in the "Image comics" are together termed as "Image Universe" similar to our popular "Marvel Universe" and "DC Universe". Like in the "DC" comics, we have Superman, here we have Omni-man whose background story is more or less similar to Superman. Superman is an outsider and comes to the planet Earth to save it and settles here similarly Omni-man is from "Viltrum" planet who comes to our Earth to save it. Like him, there are other resembles too, and the characters of "Invincible Universe" and "DC Universe" resonate well if their superhuman capabilities are compared like "Aquaman" and "Aquarus", "Fash" and "Red Rush", "Wonderwoman" and "Warwoman", " "Batman" and "Darkwing" and many more. Even the way they work together in a league called "The Original Guardians Of The Globe" is similar to "Justice League"

But this is where the discussions about the similarities end. The more you dive deeper into the character development of the series you will find that the "Invincible" is more relatable to "The Boys" or it is "The Boys" web series in animated form. Both depict the ugly truth and dark secrets about superheroes and how they are commercialized to manipulate the public. All this looks like a stage show. In a conventional superhero movie, a superhero is flawless and error-free but in Invincible you will unearth the true reality of their motives and acts. When we watch Marvel/DC movies or web series, we are hidden from the collateral damages that occur when a superhero is fighting with the villain but here you will be shown that public property and life are damaged too, and the chances of a superhero failing always prevail.
This will be your biggest mistake while watching Invincible if…
Welcome to Burger Mart! Please enjoy a hot meal along with an update on Season 2 of… pic.twitter.com/rHTblkb2wp

— INVINCIBLE (@InvincibleHQ) January 20, 2023
If you think that Invincible is an animated series and you can let your kids watch it. Beware!! The series contains gruesome scenes, blood, and murders that can have an impact on your children and traumatize them. There are also many sexual references in the series which is not considered appropriate for all ages. This is the main reason why the Invincible series is "R" rated by the sensor board of various countries.

If you are in the belief that it is a superhero web series, which is not the case here. On primary visuals, trailers, teaser, and posters you may be hinted that this is another great superhero series and if you are watching with that mindset then your mindset is about to get changed soon!! It is far from a superhero movie. It clearly depicts that for the greed of power and money how people can even commercialize humans and alien races that are superior to them. 

If you consider "Invincible" a rip-off of "DC" then you are misled by social media and web stories or blogs. The reason for its tremendous popularity is it's plot, thrillers, twists, and character evolution. In any other superhero series, all endings and storylines are predictable and they are mainly focused on action, sci-fi, with a little tweak of humor in between but in Invincible, nothing is predictable. Each episode is going to deceit your predictions and render you speechless.

If you are comparing it with Japan or Korean based anime. This is surely not the case here. "Invincible" is not based on any manga series but on the works of the notable comic writer "Robert Kirkman" and is based on an American comic series by him named "Invincible". The series total contains of 144 issues so far.

If you have read the comic series and hope for the same content in the animated series. There are some minor details in the animated series that are either missing or have been fabricated into something else but the overall context and essence of the theme it is based on prevails throughout. The most prominent mismatch is when there is a Flaxan invasion. In the animated version, Nolan is still in a super hospital facility recovering while the plot in the comics is a bit different.
Invincible plot and story so far
The web series showcases multiple superheroes and villains and extraterrestrial characters with immense strength and mystical powers. The series begins with a mustached character named "Nolan Grayson" also referred to as "Omni-man" by the public. He is also the top-ranked superhero. He arrived on Earth in the early 1980s from the Viltrum planet to protect Earth. The habitats of all people on this planet are called Viltrumites of humanoid species possessing superhuman powers. It was later revealed in the show that Nolan's main motive behind visiting Earth was colonizing it for the Viltrum Empire. 

On arriving on Earth, he married Debbie, whose life he saved once. The couple has a son named "Mark Grayson". "Mark" is the central character in this series. His early life was normal and without super-human abilities but after his 17th birthday he is able to feel his powers after a scuffle with one of his classmates. After finding his eternal strengths and capabilities he initially struggles to find a superhero costume. He later gets it designed by one of his friends "Art Rosenbaum". The name "Invincible" in the series in actuality is a reference to "Mark's superhero name that he adopted after a warning by the principal of his school where the principal scolds him and says "You are not invincible or anything".

After discovering his competence, he speaks to his parents. His revelation makes his mother "Debbie" delighted but his father "Nolan" has a mixed response and the reason will be unraveled as you will progress in the series. 
Invincible cast and voice artists-full detail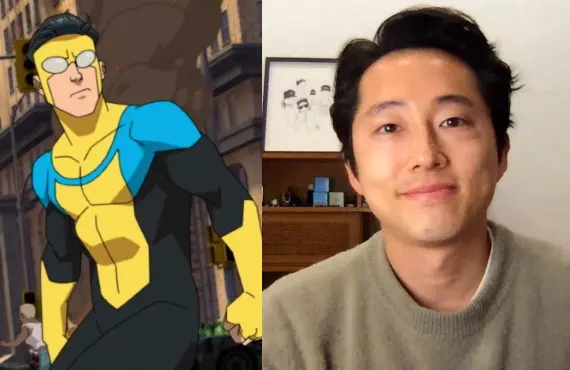 Talking about the cast members of Invincible, it is star-studded with notable comedians and voice artists. It includes many prominent actors/actresses who have delivered iconic roles in their careers and there are pretty high chances you are watching or listening to them for the second time. 
J. K. Simmons as Omni-Man

– You can say he has switched roles here!!! Your own "J. Jonah Jameson" whom you have seen criticizing "Spiderman" all throughout his career, is the voice behind the ranked 1 superhero and Vilturmite "Omni-man" in the Invincible series. Although the tables are turned this time he has given 100 percent in this role which can be easily drawn from the series being a hit.

Steven Yeun as Invincible

– Steven has earlier been featured in the " Robert Kirkman's" written series "The Walking Dead". Looking at his career, you can deduce that he is the perfect fit for OTT-based platforms. He was also featured in the Netflix hit series "The Humans" and the movie "Okja".

Sandra Miju Oh as Debbie

– The voice of Mark's mother is given by popular Canadian and American actress Sandra Miju. Her other great works include roles in "Grey's Anatomy", "Mulan 2", and "The princess diaries" and voice artist in "Turning Red".

Mark Hamill as Art Rosenbaum – There are very few people who get the privilege to work for both "Marvel" and "DC" but Mark Hamill has worked not only for these two but also Invincible franchise. The role of the superhero costume designer in the Invincible series is given to Mark Hamill whom you might have seen in the "Star Wars" series as "Luke Skywalker". Besides, he also voiced in many big-budget projects such as Joker in DC, Hobgoblin in Spider-Man, and Fire Lord Ozai in Avatar.
Lauren Cohan as War Woman

– Here we have another member from the walking dead franchise. Lauren Cohan voiced War Woman who has a close resemblance to Wonder Woman from DC. She was also in lead roles in Supernatural and The Vampire Diaries.

Gillian Jacobs as Atom Eve

– The NBC's sitcom "Community" famed actress Gillian Jacobs is the voice behind "Atom Eve" in the series. "Gillian" was also in the "Fear Street: Trilogy" made by "Stranger Things" director "Duffer brothers".

Malese Jow as Dupli Kate

– The voice of Dupli-Kate in the series is given by former "Nickelodeon" and "The Vampire Diaries" star Malese Jow.

Jason Mantzoukas as Rex Splode

– He is another popular comedian in the list whom you might know from the movie "The Dictator". He has voiced Rex Splode who was earlier in a relationship with Atom Eve but later shifted his interest to Dupli-kate in the Invincible series. His other iconic roles include as an undercover agent in the sitcom "Brooklyn 99".

  

Khary Payton as Black Samson

– The voice behind Black Samson is Khary Payton who is one of those other people who have worked with both Marvel and DC.
Here are some FAQs regarding Invincible
Where can I watch the Invincible animated series?
Amazon Prime Video holds the license and exclusive rights for the release and telecast of "Invincible". You can start watching right after purchasing a subscription to the "Prime Video" platform.
How many seasons of Invincible are there?
The makers have talked about three seasons so far. The first season was released on 25 March 2021. The second season is to be rolled out this year towards the end while work on the third season is in progress.
How many Episodes are there in Invincible season 1?
Invincible Season 1 has 8 episodes in total with a run time of approximately 50 minutes for each episode.
Is Invincible Season 2 canceled?
This was a rumor spread earlier because Prime had delayed the rights but it was revoked later and work has already begun for season 2 and 3 release.
Can kids watch the Invincible series?
Absolutely not, it is R rated and can be seen only under the guidance of guardians because it involves murders, blood, nudity, and offensive language which might have a harmful impact on children under 17 years of age.
When is invincible season 2 coming out?
The makers have clarified that the second season will be made available by the end of this year 2023. A teaser was released in January and the trailer and episodes will soon follow.
How Invincible was named?
After an altercation with his friend, Mark was sent to the principal's office where the principal reprimanded him and commented he wasn't someone who is invincible. Mark adopted his superhero name from there. 
Related Posts:
Below mentioned are few related posts which you can also enjoy:
Young and Hungry Season 6
National Treasure 3
Zootopia 2Snowfall Season 5
Skymovies Hd
Desiremovies
What Space Movie Came Out in 1992
NORAGAMI SEASON 3
Gabriel Kuhn and Daniel Patry
Moviekids