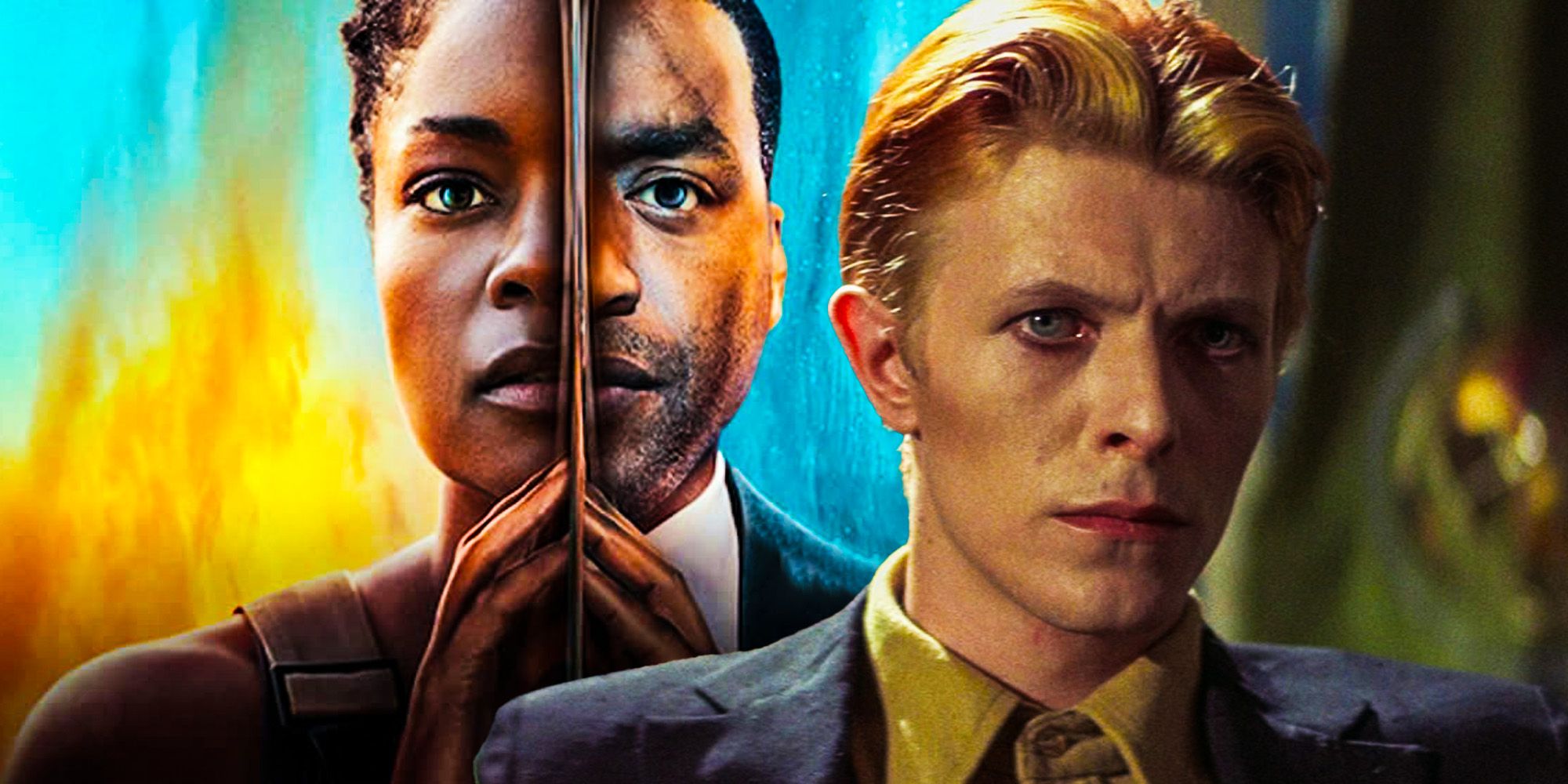 Showtime has revived The Man Who Fell To Earth but is the new TV series a revival, reboot, or a sequel? Based upon Walter Tevis' 1963 novel of the same name, Showtime's The Man Who Fell To Earth is the latest adaptation, following the 1976 cult classic film starring David Bowie and directed by Nicholas Roeg. The book was also adapted into a TV movie in 1987. Showtime's 10-episode The Man Who Fell To Earth series stars Chiwetel Ejiofor and Naomie Harris, and it's written and produced by Clarice's Jenny Lumet and Alex Kurtzman, who also directs.
The version of The Man Who Fell To Earth that audiences are most familiar with is the David Bowie movie. The beloved rock star, who died in 2016, played Thomas Jerome Newton, an alien who came to Earth to save his home planet, Anthea, from a catastrophic drought. The film is famed for its mind-bending visuals and Bowie's striking and ethereal performance. Newton builds a company called World Enterprises Corporation but he is arrested and imprisoned by the U.S. government, and their experiments left him blind and an addict. Newton eventually escapes and sends a message back to Althea but his mission on Earth is a failure and he never sent the water Anthea desperately needed.
Related: Clarice Season 1 Ending, Conspiracy & What's Next Explained
For Showtime's The Man Who Fell To Earth, Kurtzman and Lumet opted to make a continuation of the David Bowie film. Instead of a reboot or a revival, the producers refer to their version of The Man Who Fell To Earth as "a 45-year-later sequel." The Man Who Fell To Earth TV series canonically acknowledges the events of the film, which happened in the late 1970s, and picks up the story in the present day with new characters. In Showtime's The Man Who Fell To Earth, Faraday (Ejiofor) lands in New Mexico and searches for a human scientist named Justin Falls (Harris) in order to complete Newton's mission and save Anthea as well as Earth. Faraday's world has now been devastated by the drought and his species has all but died off. Further, Thomas Newton, who is now four decades older and played by Bill Nighy, who succeeds David Bowie in the role, has been hiding on Earth all this time and mentors Faraday and Falls to save their worlds.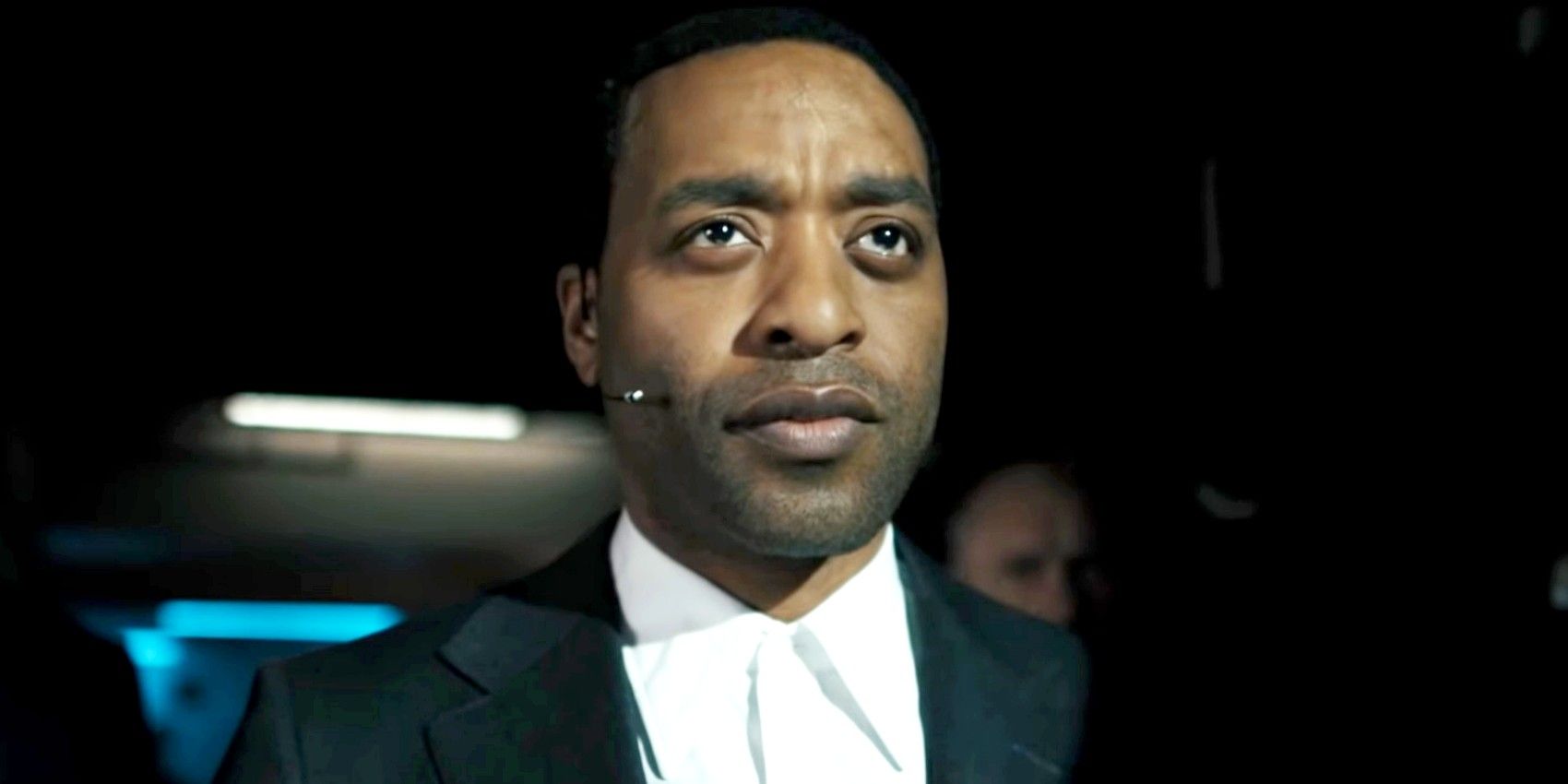 However, The Man Who Fell To Earth episode 1 begins with a flash-forward of its own timeline. At an unspecified point in the future, Faraday is a powerful corporate leader about to unveil a device that he promises will "change the world." Faraday's gadget is presumably the cold fusion power source he and Justin built that's now a compact box capable of being mass-produced and marketed. At this future juncture, Faraday is giving a TED Talk-like seminar to an enraptured audience, and he has become a tech guru like Steve Jobs and Mark Zuckerberg. Faraday even notes that he's being referred to in the press as "a tyrant, a king, a tech god Willy Wonky up to his gobstopper in secrets." The Man Who Fell To Earth's flash forward indicates that Faraday's mission to construct a world-saving device succeeds, although it leaves the question open as to whether Earth and Anthea are eventually rescued from their climate calamities.
Audiences don't need to have seen the 1976 movie to enjoy Showtime's The Man Who Fell To Earth, but it does enhance the experience. The show's present-day setting also allows it to tackle different themes from the David Bowie film. Faraday's story is obviously an immigrant's journey in modern America as he initially lands not knowing the language, culture, or societal norms and must quickly learn while being judged as "other" by everyone he meets. Faraday is also pursued by CIA agents who want the alien detained or worse. Thus, The Man Who Fell To Earth speaks to many problems in the 21st century as it updates and continues the story David Bowie's film began in 1976.
Next: Is Clarice Canceled? Season 2 Updates Explained
The Man Who Fell To Earth airs Sundays @ 10pm on Showtime.