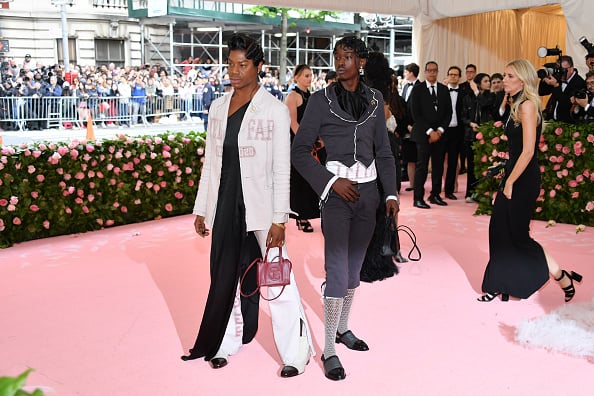 Image Source: Getty / Dia Dipasupil
Telfar Clemens and Ashton Sanders attend the 2019 Met Gala
Shopping comes with its own frustrations when we're forced to stick to one of two genders: male or female. The male section typically has oversize silhouettes, whereas the female section is often full of body-conscious silhouettes and feminine finishes. So what do you do if you don't fall into these narrow categories or you want to shop across genders? For a long time, fashion didn't really have an answer to this (aka, it's your problem), but with more and more consumers seeking out gender-neutral apparel, the industry is being forced to question outdated gender norms.
Sure, androgynous fashion isn't new (think Billy Porter, Twiggy, Annie Lennox, David Bowie, and Prince), but many contemporary brands like Pyer Moss, Eckhaus Latta, Bode, Nudie Jeans, and Telfar are embracing a more fluid aesthetic and creating clothing that can be worn by everyone, no matter their gender identity.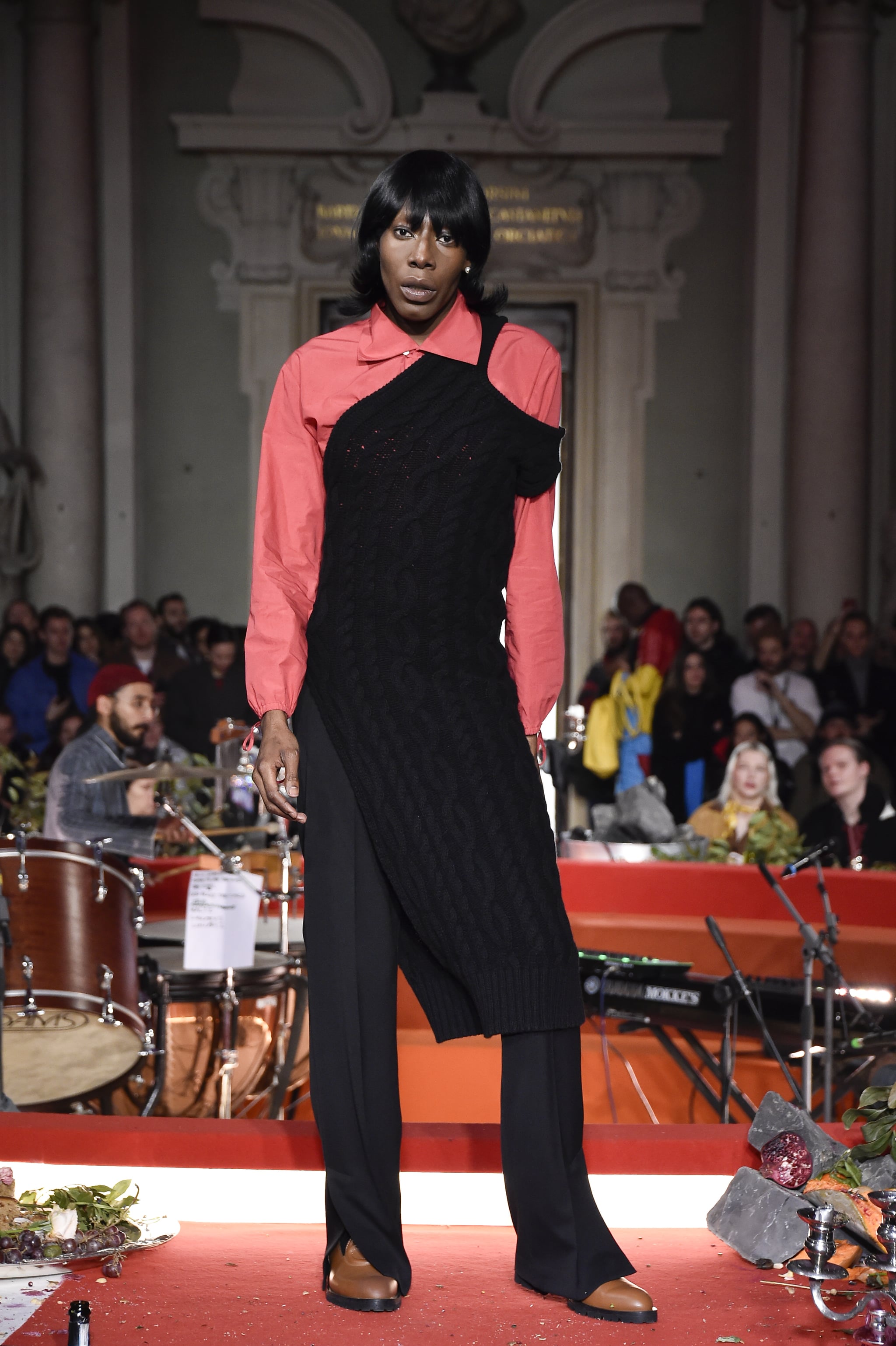 Image Source: Getty / Pietro D'Aprano
A model walks the runway at Telfar's fashion show in January 2020.
"We tend to gender everything. Our entire world is built on a binary construct"
Robert Smith, founder of Phluid Project, a nonbinary clothing store aimed to make genderless fashion and accessories available worldwide, summed it up perfectly: "A dress is a dress, a skirt's a skirt, a jacket's a jacket, lipstick is lipstick. We tend to gender everything. Our entire world is built on a binary construct, and the objective of Phluid Project is to allow folks to express themselves in the way that they feel comfortable — the way that feels authentic to them."
Binary Social Conditioning
Like several industries, fashion has much work to do to become inclusive and representative to all. The reason for that? Social conditioning. Because fashion trends, seasons, and runway shows have been categorized for years by gender norms, a binary system was created. From a young age, we've been made to believe that there are things to be consumed either by men or women, which has affected how we speak, look (or are supposed to look), and view ourselves. The language is on products, marketing signs, and every beauty product out there. And when you are shown one image so many times — male or female — it is hard to feel welcomed or supported if you don't fit into that mold.
People have gone against the grain by bending and blending wardrobes. We saw this with Coco Chanel: back when WWI saw women shortening their skirts and tossing their corsets, Chanel made it chic to put ordinary women in trousers for the first time. Or Katharine Hepburn, who was popular for suits and button-downs, with her infamous line, "Anytime I hear a man say he prefers a woman in a skirt, I say, 'Try one.'" A piece of fabric, material, textile, or garment has no inherent gender.
How Fashion Designers Are Helping
Fortunately, with a quick look at the runways, magazines, and Instagram feeds over the last several months, you'll notice a shift in the way we see gender within fashion to support large audiences on social media and beyond.
In fall 2020, Marc Jacobs launched his polysexual label Heaven, displaying that fashion is for everyone. The fashion designer described the clothing line as for "girls who are boys and boys who are girls [and] those who are neither." Gucci debuted MX, a gender-fluid section on its website where the models all identify as nonbinary. Shortly after, Stella McCartney began selling a genderless and sustainable apparel line called Shared. Then there's Telfar's unisex tote bag, Bode's embroidered shirts, and the list goes on.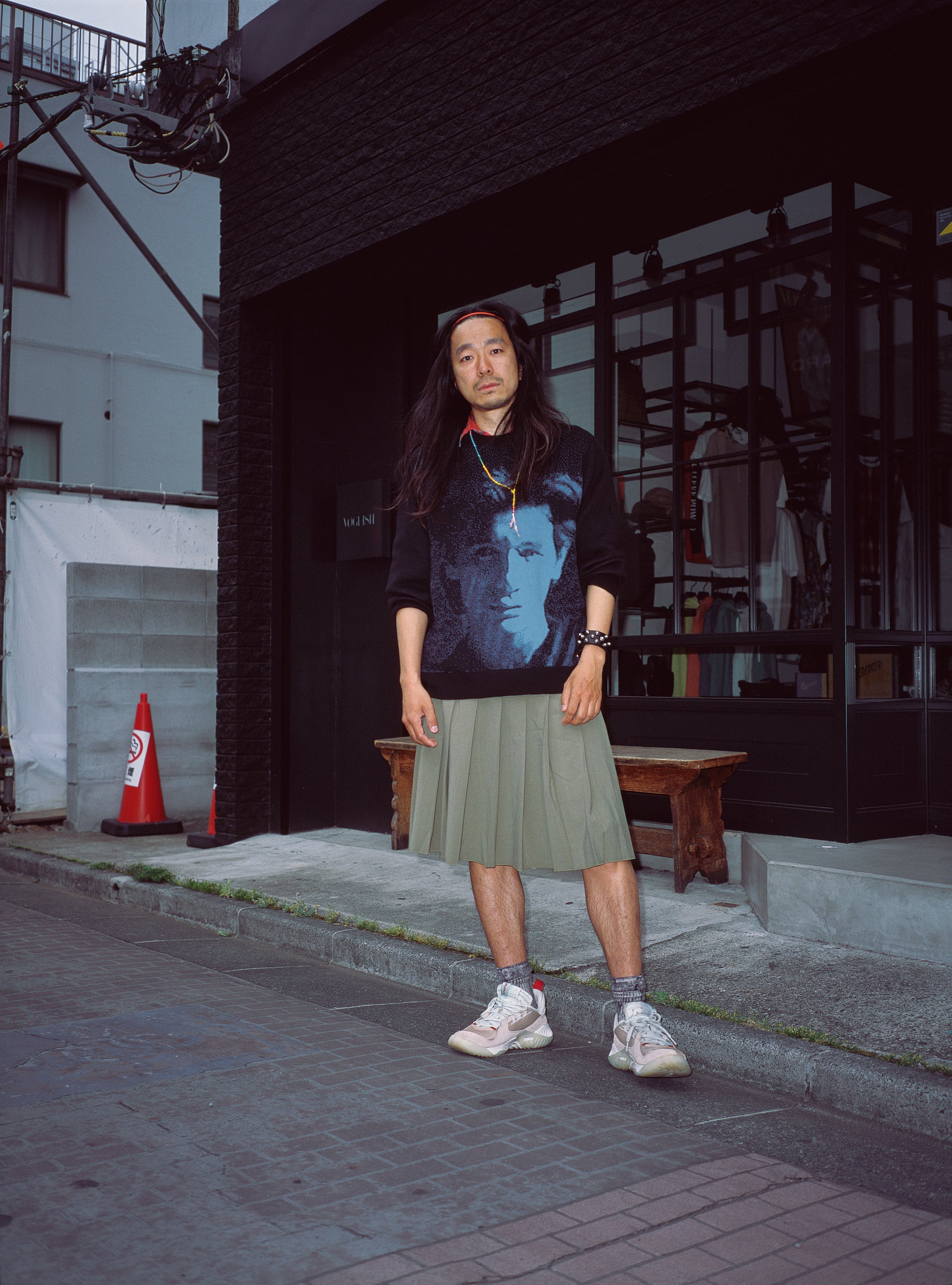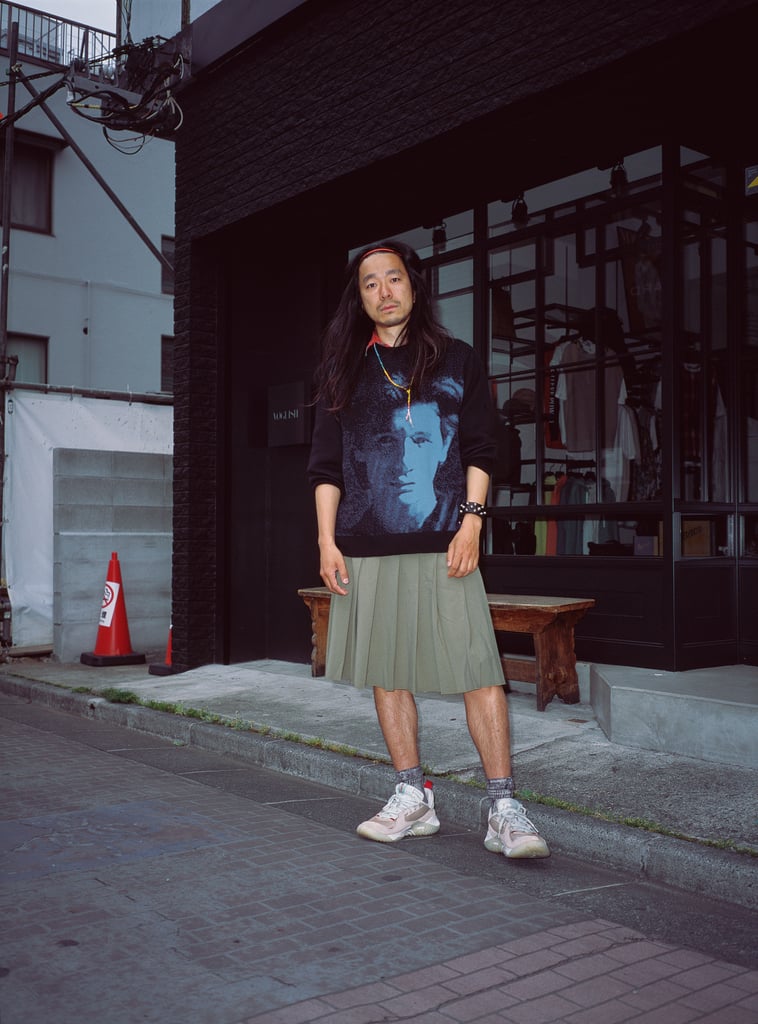 Image Source: Marc Jacobs
Marc Jacobs's Heaven Collection campaign.
These designers, and many more, are deconstructing the binary and strict division between male and female to create space for all by growing awareness and sensitivity to the experiences of those who previously had to bend to gender norms.
Gender-Fluid Collections Are Here to Stay
The goal of gender-fluid or nonbinary collections is not only to allow people to accurately express themselves but also to educate people on how to navigate language to be more inclusive. And if the rise of conversations around individuality and self-expression (specifically postpandemic) is any indication, gender-fluid collections will continue to trend.
Fashion has the power to break down these old constructs.
People need to be seen. We need representation in the media, runway, and clothing stores to be symbols of hope for marginalized communities, to hopefully one day not be marginalized at all. Fashion has the power to break down these old constructs.
Because here is the truth: Some women like to wear suits. Some men enjoy manicures. Some don't think of themselves as men or women. In 2021, gender lines are blurred, blended, and reimagined altogether — and that's exactly how it should be, because there shouldn't be any "shoulds" at all.
Originally posted 2021-07-23 13:56:35.