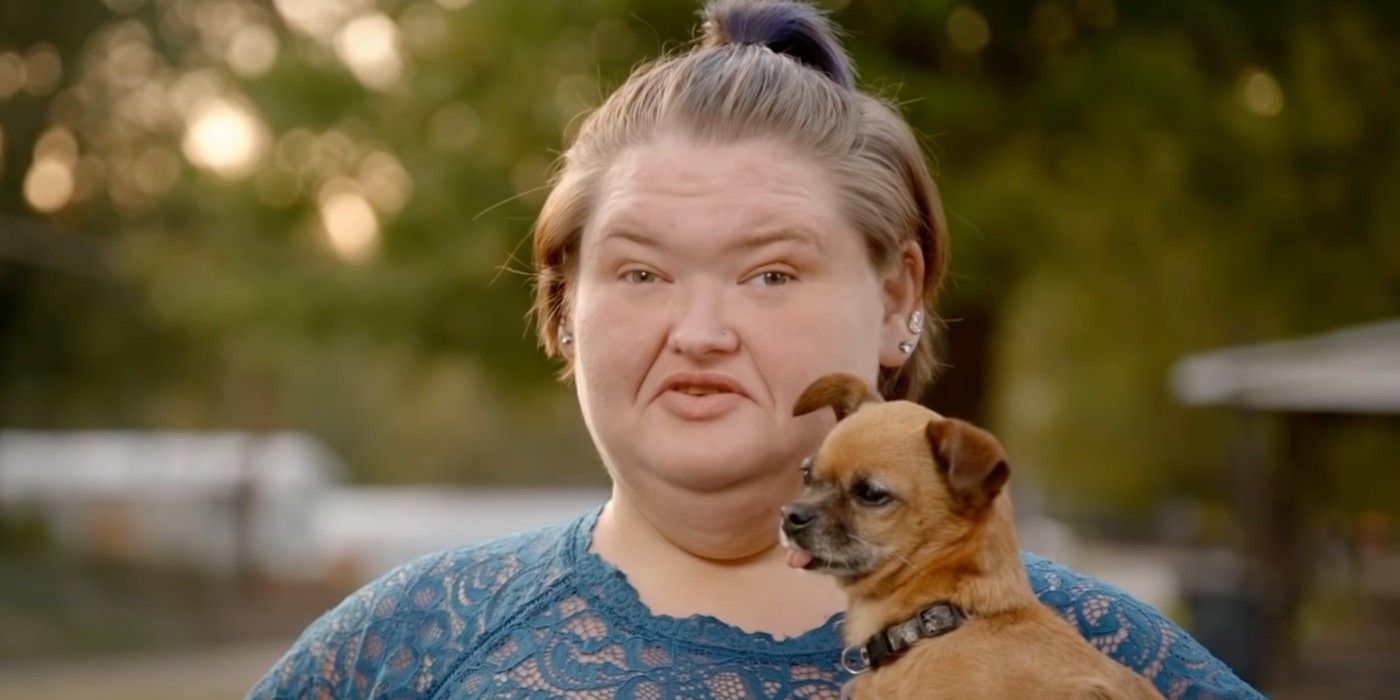 There is no doubt Amy Slaton's dog Little Bit was an important part of the family on 1000-lb Sisters, and her touching tribute resonated with fans. Amy even referred to her canine companion as her daughter. When Little Bit passed away, it took a toll on both Amy and her ex-husband, Michael Halterman.
Little Bit may have been small, but despite her size, she made an impact on 1000-lb Sisters' Amy Slaton. The Chihuahua initially belonged to Michael's father, but she had been in Amy's life for five years before she passed. The two shared a close bond that will never be replicated. Little Bit had been part of the show since the beginning, so it was no surprise when Amy and Michael held a memorial service to honor her life during 1000-lb Sisters season 4.
Amy Slaton Created A Touching Tribute Celebrating Little Bit
Amy now has a hole in her heart that can't be filled since Little Bit passed away. The 1000-lb Sisters star wasn't ready to see her friend cross the rainbow bridge, and she's had a difficult time coming to terms with the loss. Amy shared memories and pictures of Little Bit on her YouTube channel. and created a video in remembrance of her beloved pup.
When Amy shared that her dog Little Bit had passed away, her followers on social media were devastated by the news. Despite the fact that Little Bit lived for 22 years, it still wasn't enough time. Amy's transition to motherhood has been difficult, and Little Bit's presence was a comfort for her.
1000-Lb Sisters Fans Will Miss Amy's Dog Little Bit
Fans were touched by Amy's tribute and the love she had for her furry best friend, and she received a multitude of comments from people on YouTube sharing their condolences and respect. One fan commented on her video, "What a beautiful tribute for Lil Bit. You gave her food, shelter, and most importantly, love." Even though Amy is the star of 1000-lb Sisters, viewers loved watching Little Bit throughout the seasons and her loyalty to her family.
While having a funeral for a dog may seem unconventional on 1000-lb Sisters, it felt appropriate for Amy and Michael, who had lost a big part of their family. The loving gesture was just another way to express how much Little Bit meant to them. Amy's YouTube video is also symbolic of the important role Little Bit played in their lives, and her followers are sympathetic to her pain. Another fan commented on her video, "Sweet Little Bit, such a loved pup will be missed dearly by so many. Very sorry for your loss."
Little Bit can never be replaced on 1000-lb Sisters, but the family has welcomed a new furry friend into their home. Amy surprised her sons with a new dog for Christmas. The precious canine named Daisy is a Chihuahua Pomeranian mix that fits right in. Although Amy and Michael's hearts are still broken, they are finding room in their hearts for someone new.
Sources: Amy Slaton/YouTube, Amy Slaton/Instagram