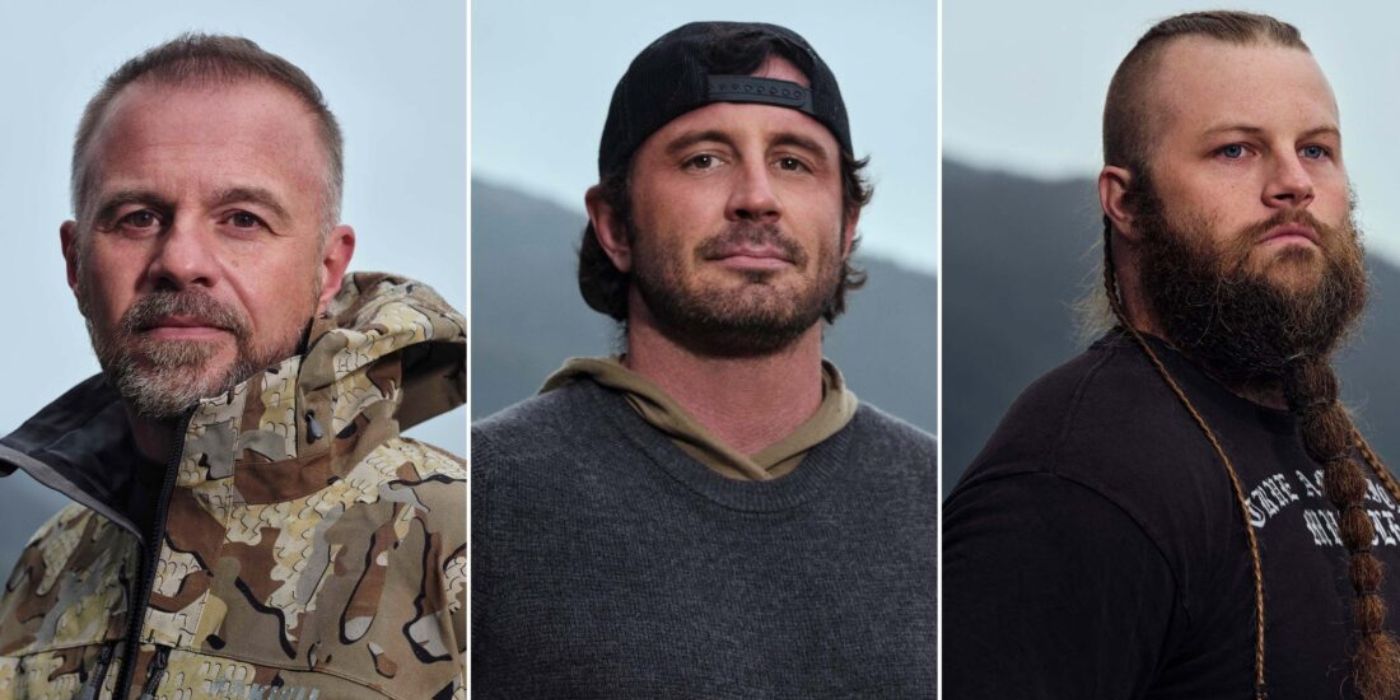 Netflix's Outlast season 1 captivated audience members with its new take on a survivalist show, and Screen Rant had an exclusive chat with the winners. The premise was straightforward: drop 16 contestants into the backwoods of Alaska, with almost nothing but the clothes on their backs. With no rules in place, the contestants had to learn to work together. The new series featured four teams (Alpha, Bravo, Charlie, and Delta). With almost no rules, the game quickly devolved into the Wild West. The game master shared important information, including the fact that a player needed to be a part of a team to win the $1 million cash prize.
As the eight-episode installment played out, Team Charlie members (Seth Lueker, Paul Preece, and Nick Radne) hedged their bets, becoming the team to beat. The three men worked well together, and didn't let their egos distract them from their ultimate goal. Team Delta and Bravo's only real competiton was Team Alpha. The latter group of villains lost, as good triumphed over evil.
Team Charlie featured three cast members who wanted to play a fair game. Nick, who hailed from Tampa, FL, shared with cameras that he always had a, "winners mindset." When he first landed in the Alaskan bush, his enthusiasm for life was clear. The high school teacher and wrestling coach was well-equipped to deal with locker room-style drama. While growing up, the family man hunted. Nick's goal was to win the game so he could help his family. Seth from Team Charlie had Marine training, and joked that he was, "too dumb to die." Team Charlie members spoke with Screen Rant about working together to win the show.
Screen Rant: What did each of you end up doing with your share of the Outlast winnings? Nick, last fans heard, you were going to call your sister, as she helped fund the trip to Alaska. Paul, you wanted to help your daughters out with a house.
Paul: Yes, my youngest daughters are 9 and 4, and we've moved several times over the last 6 years, for my job, and also to support my fiancee's studies as she finishes her doctorate. We purchased a house not long after the show wrapped, and my family is excited to be able to put down roots, and be a part of a community.

Seth: After paying off debt, my wife and I are going to focus on what's important – starting our family.

Nick: I invested in a trucking company, and in my own wood-flooring company, so that I can eventually buy a house for my children. I pretended like the money didn't exist, and lived off my teacher salary and side hustles permanently.
Screen Rant: What was the hardest part of surviving in Alaska, and what made you persevere?
Paul: For me, it was missing my family. My whole reason for being there was to help give my children a better life, and this was what I thought of every day.

Seth: The hardest part of surviving in Alaska, I would say, was definitely the challenge of everything being wet constantly. It was almost impossible to keep firewood dry, or keep yourself dry.

Nick: It was 100% beating your own mentality. The conditions were so horrific, and we were so hungry and cold ALL the time. A good night's sleep was literally impossible to achieve. I thought of my children, students, and wrestlers watching their dad, coach, and teacher fire a flare. I thought, "as terrible as this is, they will never see me fire that flare gun. They will never see me quit. I will die before I quit."
Screen Rant: How do you all feel about the accusations that Outlast is scripted?
Paul: Shew! It would be easier if it had been, lol. This was real and raw. The show had a life of its own, and was constantly evolving within itself by nature, and also by design. I lost 42 lbs. during the shooting of Outlast, and most of the guys averaged losing a pound a day. If it was scripted, I would have demanded a Monster Rehab and a Snickers bar!

Seth: This is a question that I get a lot, and it's almost going to be impossible to change the minds of everyone. But I can promise you this, I ain't no actor, and it wasn't scripted.

Nick: Everyone has something to say, and that's fine. I lost 48 lbs. There was over 5000 hours of footage to edit down to roughly 7 hours. They told the story that would make the most sense to the largest audience, but I do wish you could have seen more of the survival aspect, because every day was a desperate act of survival to get through the day.
Screen Rant: Do you believe that being a part of a team was helpful, or a hindrance? Would you rather have competed solo? What are your true feelings about Team Alpha's decision to embrace the "no rules" edict, and play dirty?
Paul: Tricky question. The team dynamics fell apart as the game evolved for me in the early going, but once I became a member of Charlie, it became a driving force to finish for each other, and share the workload, and provide emotional support.

I love my team, and I'm grateful for the experience, and the extended family that has come from it, but I would love to compete in a show like Alone, or even Survivor. That being said, my bag is packed if Netflix would have me for another season.

What most people don't realize is that we had no idea that was going to happen. By this time, I had already left Delta, so the agreement Charlie camp had with Alpha was to not accept any members from Delta or Bravo once they merged. We were shocked, and figured we were next, so we each stood guard at camp to make sure this didn't happen to us. Also, Alpha had no idea that I had left Delta when this went down, so they thought the third sleeping bag was mine. We agreed to play a fair game, and we stood by that.

Seth: So, being a part of a team has its ups and downs. Yes, there are more mouths to feed, but there are also more hands for a project, or bodies to help hunt. I would love to do something like this solo, as it would be the ultimate test of myself, and I believe that should be something everyone strives for, to test themselves at every chance. My true feelings about team Alpha are this: it crossed everyone's mind out there, and I won't deny that, and I honestly don't think they put anyone's life in danger… did I want to be the first one to start the fight? No… but it definitely would have ended quickly. And for the record, no one was afraid of Jill or her repercussions.

Nick: Being part of a team was both! I mean, how could it not be? However, the team aspect of the show allowed us, with different skills, to complement one another, and compete more effectively. Alone is Alone – nothing is going to be that show. Outlast is a survival-based competition show, so to compare the two things, as much as people like to do that, is wrong. As far as Alpha? I mean, I was so busy trying not to DIE out there – trying to fish, hunt, forage, and build our shelter (that was a full-time gig for me) that I had no idea what Alpha was doing when they were doing it. We had such little info about what was truly happening that I tried not to worry about them.
Screen Rant: Team Charlie stated that the reason behind not accepting Javier was not wanting a fifth team member. However, down the line, you were willing to accept Jill Ashock (who would have been a fifth member), and Justin Court from Outlast's Team Alpha. Do you feel that move was still a good decision, especially since Javier played an honest game?
Paul: I feel for Javier, and I know he thinks I'm the reason Charlie didn't accept him to our team, but this isn't the case. I feel most people are not focused on the fact that this was a Reality TV Competition Show for $1 million, much like Survivor. Only four people could win, and by not taking him on, it moved each of us closer to the end goal, so this was a team decision. A game decision. Javier was obviously a very knowledgeable contestant out there, and his drive is admirable, so as a team, we weren't going to risk him not shooting his flare gun off in the end, and possibly causing one of us four to not make the final. Again, it was a gameplay team decision. Had we been a team of three when he petitioned us, then the outcome would have been different. When Justin came to us, we were a team of three, so this isn't really comparable to Javier, but it also put a dent in Team Alpha. When we made the decision to go after Jill, it was early in the game, and again, we had no idea what was going on across the river when we met with her. We saw her as one of Alpha's key members at this time because of her archery background, so taking her was a means to weaken what seemed like a very strong Alpha team.

Seth: Javier came over at a time where we had a team of four, and you can only win with a team of four, and we weren't willing to risk our dynamic for that. Jill would have made a fifth member, but would have also weakened their team to where there would be no hope of them winning. Honestly, looking back at it, almost any one of them coming over would have worked, and what you don't get a chance to see is that before Paul even came over, and all of the chaos ensued, I actually spoke to Justin about joining the team, before any mention of Jill.

Nick: That question is a good one. But keep in mind that the way the show was set up was that production left us alone, and they were just, "documenting" what we were doing. Anything, as far as gameplay was concerned, was just up in the air. There were no rules, which essentially means that if you wanted information on how another team was doing, you had to kinda do what Jordan did, and scout for info. Nobody wanted to let the other teams know how they were really doing. Of course, Javier has skills – that isn't up for debate. However, the info we had at the time was that Javier was nothing but drama! And we got word that Jill was planning on joining our team to single us out (the way she manipulated Justin and Amber), and attempting to cause rifts between us, so that one or more of us would flare out. So we actually discussed bringing Jill into our camp, and then sending her back after a few days, to try to disrupt Alpha's relationships. Jill was obviously the "breadwinner" of the camp. She was the master forager, and has a great bow-hunting game, so if she goes away for a week, everyone gets weaker, mentally and physically. We also wanted to test her loyalty to Alpha. How do you do that? By giving her an ultimatum… that is what we discussed.
Outlast season 1 is currently streaming on Netflix.